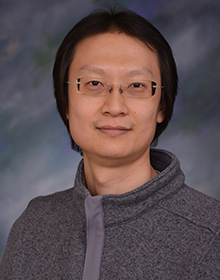 Assistant Professor of Health & Sport Studies
Director of Exercise Science Program
hsuh@wittenberg.edu
(937) 327-6470
HPER 306
Hung-Sheng Hsu came to Wittenberg to lead the university's new exercise science program in 2015. He is a Certified Strength and Conditioning Specialist (CSCS) and Certified Athlete/Sports Performance Coach (WSAW-1). He teaches courses in exercise physiology, exercise prescription, and strength and conditioning.
His teaching philosophy is to motivate students to understand and apply the scientific theory to real-life scenarios in both athletic performance and health promotion. Before his career at Wittenberg, he was a social worker in Taiwan, a personal trainer in Albuquerque, N.M., and a volunteer in an NCAA Division I strength conditioning program.
Hung-Sheng Hsu earned his B.A in Youth & Child Welfare from Providence University (靜宜大學) in Taiwan, his M.S. in Exercise Science at Louisiana Tech University, and his Ph.D. in Exercise Physiology from the University of New Mexico. His Ph.D. dissertation investigated the effect of the combination training of circuit training and Wingate sprint on acute human growth hormone to exercise. Other research interests include body composition, resting metabolic rate, and human performance in response to exercise training.