Wittenberg University offers current students, faculty and staff access to Microsoft's Office 365. This provides access to the various programs within the Office 365 suite via the web or to be downloaded on up to 5 personal devices. Along with access to the suite of Microsoft Office programs, there is access to OneDrive Storage as well, for web based storage of your documents. Students, Faculty, and Staff can access their campus email through Office 365 as well.
---
Accessing Office 365
To Access Office 365 simply point your web browser to https://portal.office.com and log in using your campus e-mail address and campus password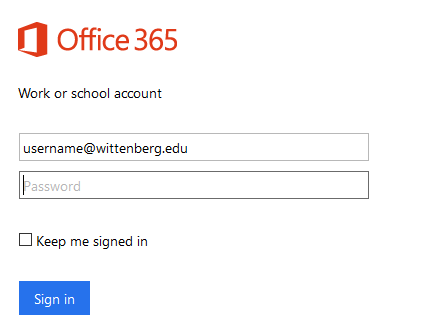 Once you have logged in you should see the buttons to access the various features of Office 365 that are available to you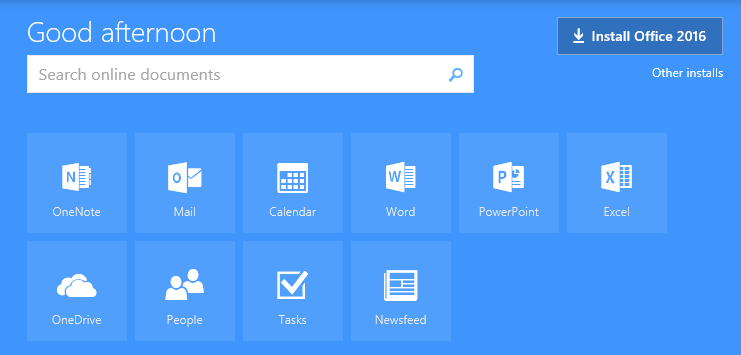 ---
Downloading Office 365 to a personal desktop (Windows PC or Macintosh)
DO NOT ATTEMPT THIS ON CAMPUS COMPUTERS These systems already have Office installed on them
First log into https://portal.office.com and log in using your campus e-mail address and campus password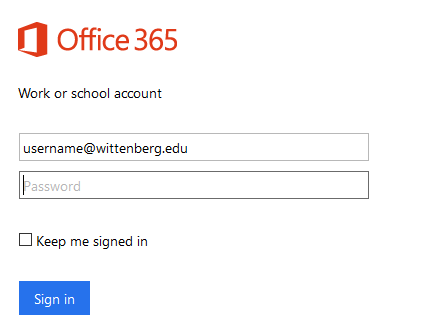 Click the button labeled "Install Office 2016"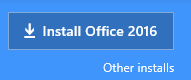 (Note this may change as they update the Office suite versions) Then just follow the onscreen instructions
---
Downloading Office 365 to personal mobile device (Android or iPad/iPhone)
To download the Office 365 suite on to a Mobile device, go to the appropriate download store;
Android devices: Google Play Store
iPad/iPhone: Apple Store
Then search for the download store for "Microsoft Office 365" and it should return the options for the various Office 365 applications.
NOTE: Be sure that the publisher is listed as Microsoft Corporation so that you are not accidentally downloading a different app.
After downloading and installing the app, it will ask for you to sign-in. Use your campus e-mail address and campus password.
---
What is the difference between Office 2013/2016 and Office 365,and are they compatible?
Office 2013 and 2016 are generally desktop versions of the Office Suite, meant to run from your local computer.
Office 365 is the web based online version of the Office Suite. It is written to be accessible via web browsers and mobile devices.
Documents written in Office 2013 and 2016 are compatible with those written in Office 365 as well as Office 365 documents are compatible with Office 2013 and 2016.
---
Is internet access required for using the Office 365 or download Office suite?
Since Office 365 is an online service, you will need to have Internet access in order to use Office 365.
If you download the Office Suite from the Office 365 Suite, your system will need to connect to the Internet to initially activate the license, and then it will need to connect to the internet at least once a month to verify the license. Outside of the activation and the once a month verification, you should be able to use the download Office suite without an Internet connection.
NOTE: If you saved your documents in your OneDrive account, you will need an Internet connection in order to access them.
---
What happens when I graduate or leave Wittenberg?
Once your accounts at Wittenberg University are ended, your access to your Office 365 will be ended as well. This means you will want to backup any of your saved documents from your OneDrive account before leaving Wittenberg.
---
Some Additional resources from Microsoft
For more information about the Office 365 suite you can check out the following resources from Microsoft
Or you can contact the Solution Center with your questions or concerns
---
Outlook for iOS end of support for iOS9
With the release of iOS11, we want to remind you that Outlook for iOS is supported only in the last two releases of iOS. This means new app updates to Outlook will now only be supported on devices with iOS10 or iOS11. Devices with iOS9 are no longer supported. While older versions of Outlook will still work on devices running iOS9, these devices will not get new app updates after build 2.48. Users can expect a degraded experience of the Outlook for iOS app over time if they do not stay up to date.
This document last reviewed March 17th, 2020.