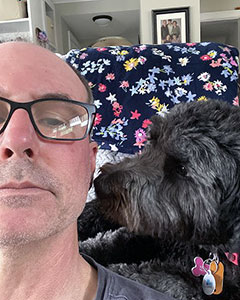 But nobody writes the names down
Just something that you gotta go through
Yeah nothing seems to work out the way they planned
And some of them think about leavin'
But not many of them ever do
Give it one more try tonight in the heartland
-Michael Stanley Band (MSB)
---
Professor of English
Associate Provost
Writing Center Director
Oral Communication Center Director
(937) 327-7922
Recitation 208
mmattison@wittenberg.edu
Profile
Though he's been employed as a dish washer, disc jockey, sump-pump repairman, line cook, vacuum cleaner salesman, and telemarketer, Mike most enjoys working with students on their writing, both in the classroom and in writing centers. He has worked in writing centers since 1996. Through all those years, he's been able to work with hundreds of students on thousands of papers. Even better, he's worked with dozens of student tutors/consultants/advisors as they have learned to conduct their own sessions with writers, and learned to conduct their own research projects in the writing center field.
Since 2000, Mike has also served as an Associate Provost, helping to create and implement the Connections Curriculum, as well as FIRE Week. He currently coordinates the First Year Seminar program and also co-chairs one of the Move the Needle module teams.
Courses Taught
Honors 300: When Bad Words Happen to Good People
English FYS: Thru the Language Glass
Education 550: Professional and Ethical Issues in Education
English 242/325: Writing Center Theory and Practice
English 327: Advanced Rhetoric and Grammar
English 245: Writing for Teachers
English 101E: College Writing and Research
Degrees
Ph.D. English: Composition/Rhetoric University of Massachusetts-Amherst 2003
M.A. English: Literature Iowa State University 1996
B.A. English College of Wooster 1994
Research Interests
Composition Theory/Pedagogy
Writing Teacher Education
Writing Across the Curriculum
Concerts Attended
Billy Joel
Prince (Purple Rain)
Stevie Ray Vaughn (JVC Jazz Festival)
Eric Clapton (Phil Collins on drums)
John Mayall
Bruce Springsteen
Avett Brothers
Bruce Hornsby & the Noisemakers
Ray LaMontagne
Jason Isbell
Ryan Adams
Josh Ritter
Bob Dylan & Natalie Merchant
Willie Nelson & The Mavericks
Mary Chapin Carpenter
Old Crow Medicine Show & Brandi Carlile
Lyle Lovett & Emmylou Harris
Steve Earle & Shawn Colvin
Rob Thomas & Counting Crows
Toad the Wet Sprocket & Rusted Root
Blues Traveler & The Wallflowers
Backseat Lovers
Lumineers & CAAMP
Tedeschi Trucks Band
U2
Selected Publications and Presentations
"'I was kind of angry': Tutors Receiving Feedback in order to Understand Writer Resistance" (with Jenn Ryan and Julia Bleakney). Praxis: A Writing Center Journal. 17.1 (2019).
"Taking Initiative: The Evolution of a Writing Tutor" (with Kaitlyn Zebell). WLN: A Journal of Writing Center Scholarship 44.3-4 (November/December 2019): 2-9.
"Recalibrating the Hiring Line: One Center's Changing Practices." Southern Discourse in the Center.22.1-2 (Spring 2018): 40-60.
"Heading East, Leaving North: Thoughts from the 2016 IWCA Conference." WLN: A Journal of Writing Center Scholarship 42.3-4 (November/December 2017): 2-6.
"'A' is For 'Alumni': Cultivating Past Advisors as Current Advocates." WLN: A Journal of Writing Center Scholarship 41.1-2 (September/October 2016): 10-16.
"What We Talk about When We Talk with Writing Tutors about Talking with Writers about Writing" International Writing Centers Association Conference: Denver, CO October 16, 2016
"Kill the Dog, Pass the Ball, Check the Machine, and Bring the Apathy" Mortar Board Last Lecture Series: Wittenberg University, Springfield, OH November 14, 2014
"Using Student Reflection to Lighten our (Work)Load: or, What Martin Landau Taught Me about Teaching Writing" Invited Workshop: Otterbein University, Westerville, OH October 28, 2014
"The Architecture of Insight: (Un)Wonderful Conversations - (with Meaghan Summers) National Conference on Peer Tutoring in Writing, Orlando, FL, November 2014
"The Writer as Suspect?: Law Enforcement Techniques in the Writing Center" National Conference on Peer Tutoring in Writing, Tampa, FL, November 2013
"The Shelf Life of Rubrics" (with Rick Incorvati). Chalk: Teaching and Faculty Development 2.3 (Spring 2013): 22-24.
"A Fall for Fellows: Implementing and Assessing a Writing Fellows Program" (with Tyler Hall and Laura McLaughlin). The ECWCA Newsletter (Spring 2012): 10-12.
"150 Seconds: Opening a Writing Center Session." Academic Exchange Quarterly.15.4 (Winter 2011): 116-121. (Reprinted in Writing Center Theory and Practice, Spring, March 2015.)
"By the Numbers" (with Adam Parker). The WAC Journal. 21 (November 2010): 37-52.
"Just Between Me and Me: A Letter to Myself About Being a Graduate Student Tutor and Administrator." (E)Merging Identities: Working with Graduate Students in the Writing Center. Ed. Melissa Nicolas. Southlake, TX: Fountainhead Press, 2008: 11-25.