A daily dose of music information!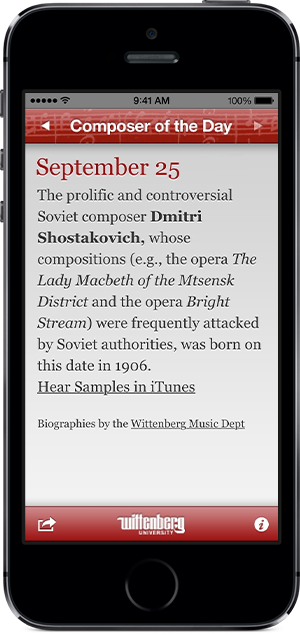 Want to learn a little more about composers? Download Composer of the Day, our free iPhone app, with concise, one-sentence biographies for 366 composers (yes, one for Feb. 29, too!) and links to sound clips for each composer. And of course we include Wittenberg alumnus John Chowning (BM, '59), "a pioneer in computer music" (New York Times, 2006) whose compositions "are among the most beautiful and sophisticated achievements in computer music" (Oxford Companion to Music, 2002).

Composer of the Day is designed and developed by Professor of Music Daniel Kazez. Have questions about Composer of the Day? Contact Prof. Kazez: dkazez@wittenberg.edu.
"Ultimate Guide to Composer Study…love this!"

A Curated List of Useful Technologies for Musicians: "I love this app"

Recommended app.

"It offers you endless new territory to get familiar with." Of four recommended classical music apps—"my fav of the 4"

WQXR (the most listened-to classical music station in the U.S.) named Composer of the Day one of the "Top Five Classical Music iPhone Apps." Their list of 5:

Los Angeles Philharmonic
Oxford Dictionary of Music
Wittenberg's Composer of the Day
Royal Concertgebouw Orchestra of Amsterdam
Karajan: Music and Ear Trainer
App user policy: Composer of the Day provides short biographies of composers born on each day of the year and links to iTunes to allow users to hear samples of the composers' music, and allows users to share the composer of the day via email or Facebook. Composer of the Day collects no user data. This user policy may be changed at any time.