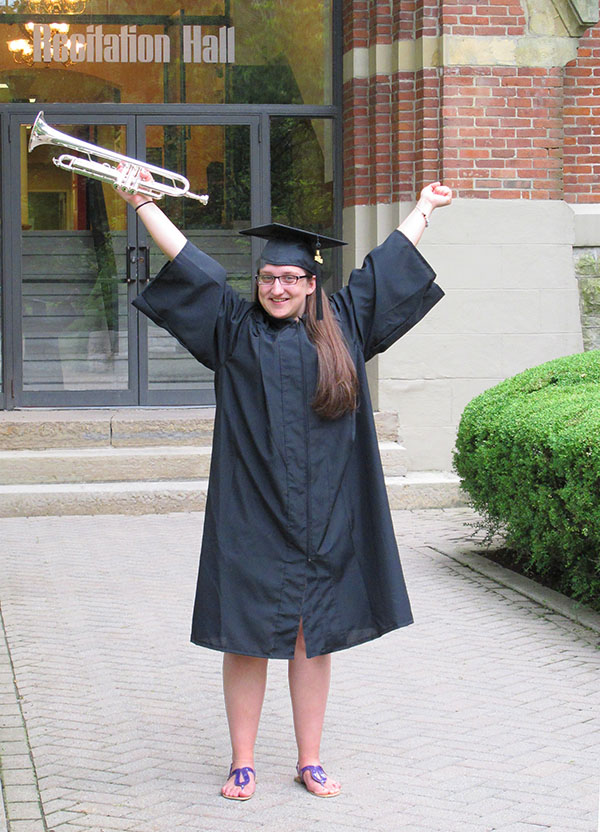 Enter the world of music: music ensembles, vocal and instrumental music lessons, a variety of music courses, a music minor and two music majors!
Music Degrees
Wittenberg offers a music minor and these two music majors:
The B.A. in Music (Bachelor of Arts in Music) leads to many different careers because it allows considerable flexibility in course selection. It is often combined with a major or minor in another field, such as communication, management, biology, psychology, or English. Some students earn a B.A. in Music as a path toward a career in music therapy.

The B.M.E. (Bachelor of Music Education) leads to certification for public school instruction (choral, instrumental, and general music).
To declare a major in music (B.A. or B.M.E.), it is necessary to perform an audition that demonstrates satisfactory skill in vocal or instrumental performance.
Course Listings
To read complete descriptions of the music courses offered at Wittenberg, click here (p. 127).
B.A. in Music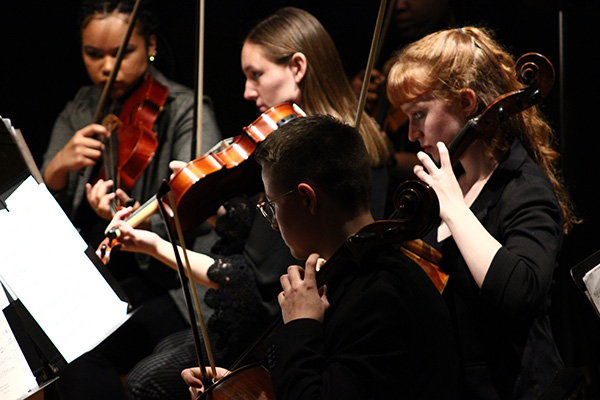 Photo credit: Meghan Nadzam
Music Theory
MUSI 102: Basic Music Theory & Skills, 4 credits
MUSI 155: Intermediate Music Theory I, 2 credits
MUSI 257: Intermediate Music Theory II, 2 credits
MUSI 259: Analysis of Music after 1900, 2 credits
Aural Skills & Dictation
MUSI 156: Intermediate Music Skills I, 2 credits
MUSI 258: Intermediate Music Skills II, 2 credits
Keyboard Skills
MUSI 120: Functional Keyboard Skills, 2 credits
MUSI 221: Advanced Keyboard Skills & Improvisation, 2 credits
Music History / Musicology
MUSI 304: History of Western Music to 1750, 4 credits
MUSI 305: History of Western Music, 1750-Present, 4 credits
Other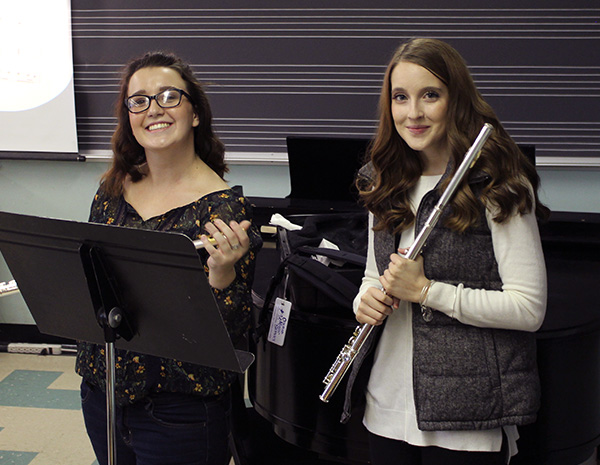 Music Education and Pedagogy
Applied Music Lessons: 4 credits and recital or studio class performance annually.
Music Ensemble: 4 credits (Participation in music ensemble/ensembles is required of all music majors every semester on campus.)
MUSI 199: Music Practicum (every semester), for non-credit
MUSI 495: Senior Recital and Paper, or Music 498: Senior Project, 2 credits
Electives in Music 10 credits, selected from at least two of these groups:
Music theory: MUSI 214, 355, 357, 450, or appropriate topics courses (Music 212 or 380)
Music history / musicology courses: MUSI 203, 205, 216, 220, or appropriate topics courses (Music 212 or 380)
Additional applied music lessons or Music 350 Introduction to Conducting or Music 351 Choral & Instrumental Conducting
TOTAL CREDITS: 42
B.M.E. (Bachelor of Music Education)
Music Theory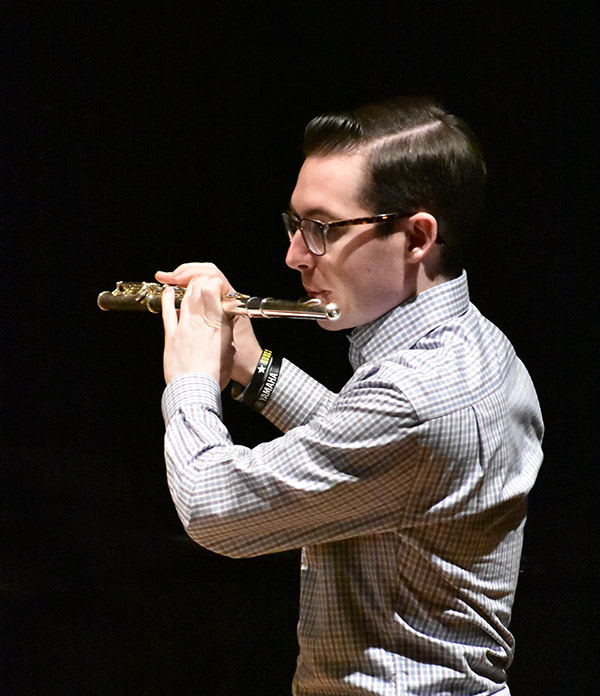 Photo credit: Meghan Nadzam
MUSI 102: Basic Music Theory & Skills, 4 credits
MUSI 155: Intermediate Music Theory I, 2 credits
MUSI 257: Intermediate Music Theory II, 2 credits
MUSI 259: Analysis of Music after 1900, 2 credits
Aural Skills & Dictation
MUSI 156: Intermediate Music Skills I, 2 credits
MUSI 258: Intermediate Music Skills II, 2 credits
Keyboard Skills
MUSI 120: Functional Keyboard Skills, 2 credits
MUSI 221: Advanced Keyboard Skills & Improvisation, 2 credits
Music History / Musicology
MUSI 304: History of Western Music to 1750, 4 credits
MUSI 305: History of Western Music, 1750-Present, 4 credits
Other
Applied Music Lessons, primary area: 7 credits and recital or studio class performance annually.
Applied music examination for advanced standing, for non-credit
Applied Music Lessons, keyboard area: 2 credits
Music Ensemble: 4 credits (Participation in music ensemble/ensembles is required of all music majors every semester on campus.)
MUSI 199: Music Practicum (every semester), for non-credit
MUSI 216: Musics of the World, 4 credits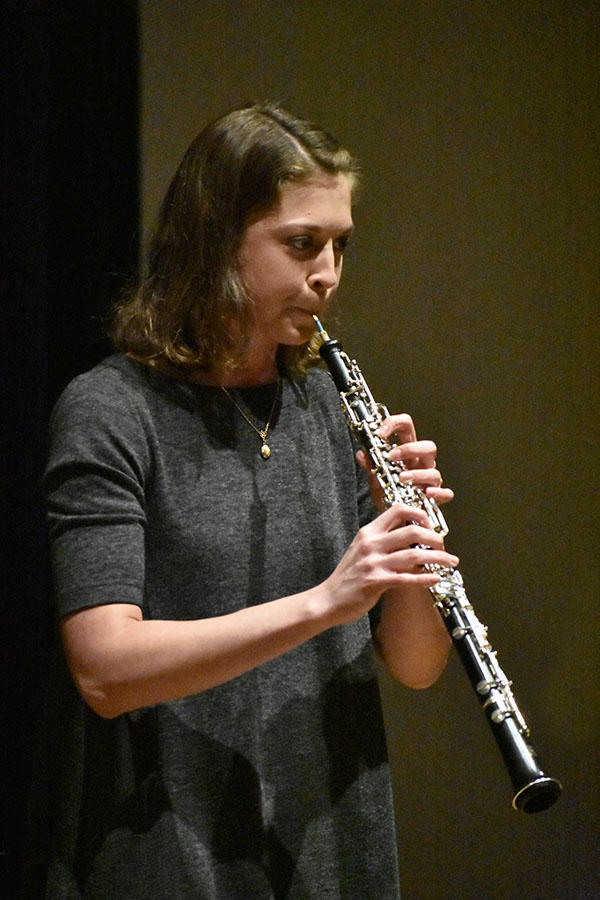 Photo credit: Meghan Nadzam
MUSI 250: Technology for Music Educators, 2 credits
MUSI 350: Introduction to Conducting, 2 credits
MUSI 351: Choral & Instrumental Conducting, 2 credits
MUSI 231, 232, 233, and 234: Instrumental methods & techniques, 1 credit each
- MUSI 231: Woodwind Instruments
- MUSI 232: Brass Instruments
- MUSI 233: Percussion Instruments
- MUSI 234: String Instruments
MUSI 235: Introduction to Vocal Pedagogy & Diction, 2 credits
MUSI 165: Introduction to Music Education, 3 credits
MUSI 463: General Music Methods, 4 credits
MUSI 464: Choral Music in the Schools, 3 credits
MUSI 465: Instrumental Music in the Schools, 3 credits
MUSI 494: Student Teaching, 12 credits
MUSI 497: Senior Portfolio Review, for non-credit
TOTAL CREDITS IN MUSIC: 74
EDUC 103 or 104: Sociological Perspectives in Education or Philosophical Perspectives in Education, 4 credits
EDUC 120: Introduction to Students with Special Needs, 2 credits
EDUC 203: Early Childhood Development and Education OR Educ 213: Adolescent Development and Education, 3 credits
EDUC 312: Reading and Writing in Content Areas, 3 credits
Successful completion of the State Board of Education Examinations, for non-credit
TOTAL CREDITS IN EDUCATION: 12
Music Minor
MUSI 102: Basic Music Theory and Skills, 4 credits
MUSI 110: Understanding Music, 4 credits
Eight credits selected from courses in the range of Music 201-220 and/or 301-320
Applied Music lessons and/or Music Ensemble, 4 credits
TOTAL CREDITS: 20
Music Ensembles
Instrumental Ensembles (0 to 1 credit)
MUSI 175. Jazz Ensemble
MUSI 177. Chamber Orchestra
MUSI 179. Symphonic Band
MUSI 191. Flute Choir
Choral and Vocal Ensembles (0 to 1 credit)
MUSI 185. Wittenberg Choir
MUSI 187. Wittenberg Singers