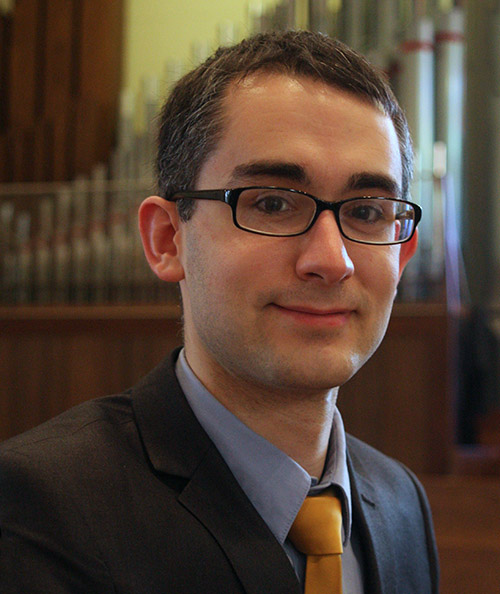 Adjunct Instructor
Organ
creand@wittenberg.edu
Dr. David Crean enjoys a multi-faceted career as teacher, recitalist, church musician, and radio personality. He has concertized throughout the United States and completed two concert tours of Australia, where he gave several Australian premieres and performed on historic organs. In 2014 he was the opening recitalist in WQXR's "Bachstock" marathon performance of the complete organ works of J.S. Bach. Other recent highlights include performances of the Poulenc organ concerto with the Bach Society of Dayton, recitals at the Cathedral of St. John the Divine (New York), St. Thomas Fifth Ave. (New York), and Central College Presbyterian (Columbus, Ohio), and several programs for American Guild of Organists chapters. He serves as sub-dean of the Dayton chapter.
Since February 2017, David has been the midday host at Discover Classical WDPR, Dayton's only full-time classical radio station. In addition, as music director he plans nearly 70 hours of weekly live broadcasts and manages a library of nearly 10,000 recordings. An active church musician since age 15, he currently serves as organist and music director at St. George's Episcopal Church in Dayton, where he directs the adult choir and leads worship from the 1989 C.B. Fisk Organ.
An avid writer, David is in demand as a program and CD annotator. He currently supplies program notes for Juilliard performances and has written liner notes for several CDs, including one Grammy winner. His doctoral dissertation focused on the life and works of Samuel P. Warren, organist at New York's Grace Church in the 19th century and founding member of the American Guild of Organists. He serves as an occasional reviewer for Notes: the Quarterly Journal of the Music Library Association and The Diapason, and he has published articles in The American Organist.
A native of New York, David received his D.M.A. from The Juilliard School, where he was the 2014 recipient of the Richard F. French Doctoral Prize for outstanding research in a dissertation. He also holds degrees from Oberlin College, Oberlin Conservatory, and The University of Iowa. His former teachers include Paul Jacobs, Lionel Party, Greg Hand, Delbert Disselhorst, and David Boe.