Wittenberg music faculty teach a variety of courses, including conducting, music appreciation, music education, music history, music theory, popular music, and world music.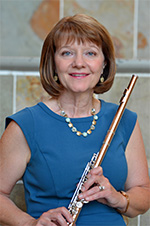 Lori Akins
Adjunct Instructor
flute
Lori Akins is an active soloist, orchestral and chamber musician, and teacher. She is the principal flutist of the Springfield Symphony Orchestra and flutist and piccoloist with the Columbus Symphony and Ohio Valley Symphony. Akins has performed with the Springfield Symphony Woodwind Quartet in numerous educational concerts and with the Springfield Symphony Woodwind Quintet as part of the summer Lunch on the Lawn series. In addition, she has been a featured soloist with the Springfield Symphony's Masterworks series. She has performed and presented masterclasses and clinics at universities, high schools, and at National Flute Association conventions. She has served as an adjudicator for the Music Teachers National Association, Ohio Music Teachers Association, Northeastern Ohio Flute Association, Central Ohio Flute Association, and National Flute Association. Her pre-college flute and piccolo studio is represented in youth orchestras around the state and has produced competition winners at the local and national levels. Lori received a Master of Music degree in flute performance and a Bachelor of Music Education degree at The Ohio State University. She is a founding member and past president of the Central Ohio Flute Association and was for many years chairperson of their Young Artist Flute Competition. Akins served as Secretary and General Competitions Coordinator for the National Flute Association. Ms. Akins has been teaching at Wittenberg since 1982. lakins@wittenberg.edu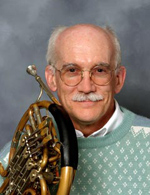 Colvin Bear
Adjunct Instructor
French horn
Colvin Bear has been a member of the Springfield Symphony since 1973 and has performed with the Lima Symphony, Dayton Philharmonic, Springfield Concert Band, and many other ensembles. He is a founding member of, and arranger for, The Valley Horns, a horn quartet that performs widely in the Miami Valley area. By competitive audition, the group was selected to perform the "Star-Spangled Banner" at a Dayton (Ohio) Dragons baseball game. Colvin's horn teachers have included Charles Waddell, Herbert Spencer, Robert Bayless, Mason Jones, Herbert Pierson, and Ward Fearn. Colvin holds a Bachelor of Music Education degree from the College of Wooster, where he graduated with honors, and a Master of Music in Education from Bowling Green State University, where he was a member of Pi Kappa Lambda. Colvin began teaching at Wittenberg in 1983. He and his wife, Carol, live in a geodesic dome house of his own design. cbear@wittenberg.edu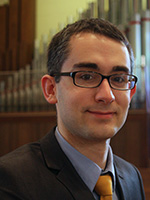 David Crean
Adjunct Instructor
music appreciation; organ; Handbell Choir; University Organist and director of Chapel Choir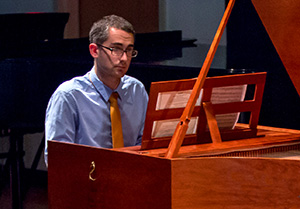 David Crean was a double major at Oberlin College, earning a B.M. in organ and a B.A. in politics. He earned an M.M. at the University of Iowa and a doctorate at the Juilliard School in New York, where he served as adjunct faculty and was the 2014 winner of the Richard F. French Doctoral Prize. His dissertation focused on the life and works of Samuel P. Warren, an organist at New York City's Grace Church in the late 1800s. Dr. Crean has performed throughout the United States as well as in Australia, where his programs have drawn praise for their balance, accessibility, and diversity. In March 2014, David gave his second concert tour of Australia, with performances in Sydney, Canberra, Albury, Goulburn, and Bowral. The tour was supported by a cultural exchange grant from the U.S. state department through its embassy in Canberra. In the past several years, Dr. Crean has served as guest instructor for the Baylor University Summer Organ Academy in Texas, performed the New York premiere of two preludes and fugues by American composer Henry Martin, and performed on American Public Media's nationally syndicated radio program Pipedreams. In Nov. 2014, he was the first performer in the 16-hour Complete Bach Organ Works marathon at St. Peter's Lutheran Church in New York, which was broadcast live by New York classical radio station WQXR. A three-time American Guild of Organists scholarship winner, Crean's former teachers include Paul Jacobs, Lionel Party, Greg Hand, Delbert Disselhorst, and David Boe. Crean wrote the liner notes for Paul Jacobs's Grammy-winning recording of Messiaen's Livre du Saint-Sacrement. Crean has written articles for The American Organist and is an occasional reviewer of publications related to the organ for Notes: Quarterly Journal of the Music Library Association. David joined the Wittenberg faculty in fall 2013. creand@wittenberg.edu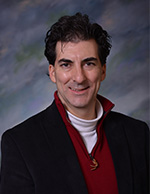 Christopher Durrenberger
Professor
piano, music fundamentals; department chair
Christopher Durrenberger has received top prizes at major national and international competitions, including the Coleman and Carmel Chamber Music Competitions, the Los Angeles Etude Musical Club Piano Competition, the Young Keyboard Artists Association International Piano Competition, and the National Music Teachers Association National Piano Competition. He was selected to pilot a National Endowment for the Arts residency, "Chamber Music in Rural America," which led to hundreds of performances, live broadcasts on National Public Radio, a featured spot on ABC World News Tonight with Peter Jennings, and a performance for the National Council in Washington, D.C.
Solo, concerto, and collaborative engagements have taken Dr. Durrenberger throughout the world, including the Sarasota and Aspen Music Festivals, the Cairo Opera House, and the Taipei National Hall. His teachers and mentors have included Denise Restout, Julian Martin, Leon Fleisher, Yoheved Kaplinsky, John Perry, Robert Levin, and James Bonn. A frequent contributor to Piano & Keyboard magazine, his publications include reviews of hybrid electronic keyboards and articles on piano technology and repertoire. Durrenberger has been a frequent presenter for the World Piano Pedagogy Conferences (Orlando, Las Vegas, and Anaheim), and the Music Teachers National Association. Dr. Durrenberger has held teaching positions in the U.S. and abroad, including at Colorado Mountain College, Irvine Valley College, and Taipei City Municipal Teachers College. Durrenberger has served as the music director of Christ Episcopal Church (Springfield) since 2000 and joined the cello section of the New Albany Symphony for their 2012-13 season. He also coaches young musicians at Columbus's Chamber Music Connection in Worthington, Ohio. He earned a Bachelor of Music degree at Oberlin College and a master's and D.M.A. with honors (Pi Kappa Lambda) from the University of Southern California School of Music. Dr. Durrenberger joined the Wittenberg faculty in 1999. Other than music, his passions include playing golf and tennis. cdurrenberger@wittenberg.edu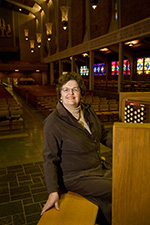 Trudy Faber
Professor Emerita and Adjunct Instructor
organ, piano, harpsichord
Trudy Faber is organist at Covenant Presbyterian Church, Springfield OH and Professor Emerita of music at Wittenberg University. She continues to teach organ, piano, and harpsichord at Wittenberg and directs the Wittenberg Handbell Choir.  In addition, she presents lectures for music history classes and also for special groups, such as churches and the Women's Association of the Springfield Symphony Orchestra (WASSO), and gives pre-concert lectures for concerts by the Springfield Symphony Orchestra. In the spring of 1998 she was the recipient of the Distinguished Teaching Award from Wittenberg University. One of her senior organ students won the Paul Manz national organ playing contest in 2004.
After graduation from Calvin College, Michigan, Trudy received a Fulbright Scholarship for a year of study at the Amsterdam Conservatory, The Netherlands, in organ, harpsichord, and continuo-playing with Gustav Leonhardt, a world-renowned Baroque music scholar. She continued with graduate work in musicology at the University of Toronto, also studying harpsichord with Greta Kraus at the Royal Conservatory of Music, and completed her MA in Music on a full scholarship at Smith College, Massachusetts. She has done additional graduate work at Stanford University and the New England Conservatory; she has studied organ with Anton Heiller and harpsichord with Kenneth Gilbert at the Summer International Organ Concours in Haarlem, The Netherlands.
As a recitalist, Trudy has performed in 31 states throughout the USA and in 9 countries as an organist and/or harpsichordist. Highlights of her recitals include the following. Twice she has performed at St. Paul's Cathedral, London, England, as well as at Coventry and Guildford Cathedrals, St. John's Cathedral, Albuquerque, NM, and Washington Cathedral, Washington D.C. She was one of four chosen to perform on the 1997 Distinguished Organists Recital Series at the Cadet Chapel, West Point, New York, playing their 326 rank organ (third largest in the world) and has also performed at the United States Air Force Academy, Colorado Springs. One summer she concertized from coast to coast, performing on an historic organ in Deer Isle, Maine and playing two recitals at the annual Mt. Angel Abbey Bach Festival, Oregon.
Several times she has performed as the guest artist, both as organist and harpsichordist, with the Springfield Symphony Orchestra. Five times she has had sabbaticals from Wittenberg to go on European recital tours, performing on the famous historic Silbermann organ in Rötha, and at the Castle Church (where Luther nailed his 95 theses) in Wittenberg, Germany in 2007. That year she also presented two recitals in Berlin and gave her third performance at the historic St. Nicolas Church, Leipzig (Bach's church).
A specialist in Baroque music, she has presented papers, recitals, and workshops on various aspects of dance elements in the music of Bach for colleges, various chapters of the AGO (American Guild of Organists), and national and international events. She has given her lecture/recital presentation on Bach and the Dance in venues around the country, including national conventions of music organizations. In 2009 Trudy received a major grant from Wittenberg to do research and to perform in Sweden and Latvia. She wrote about her experiences in two articles called "Reflections on Worship and Organs in Latvia and Sweden," which were published in The American Organist, the international journal of The American Guild of Organists (AGO) in 2010.
Another special interest is women composers. As a Wittenberg professor, she taught a course on Women in Music, has given lectures on the 12th-Century abbess Hildegard von Bingen, has presented organ and harpsichord recitals featuring the music of women, and has been chosen to give lecture/recitals at national and international conferences on women composers in California, Pennsylvania, Ohio, and Virginia. tfaber@wittenberg.edu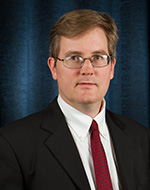 Charles Grogan
Adjunct Instructor
composition
Charles Grogan earned a Bachelor of Arts in music with a piano concentration at Salisbury University (Maryland), a master's degree in composition at California State Long Beach, and a D.M.A. in composition at the University of Arizona. He has written piano, orchestral, and ensemble works, as well as hymn arrangements for choir. Along with studies in traditional theory, Grogan has done research into the history of American folk music. As part of that research, he is preparing to publish scores of Scott Joplin piano rolls and transcriptions of 1920s-30s barrelhouse piano. Grogan came to Wittenberg in 2011. cgrogan@wittenberg.edu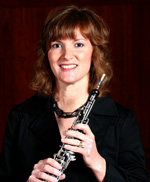 Lisa Grove
Adjunct Instructor
oboe
Lisa Grove has been a member of the Springfield Symphony since 1997, and was appointed principal oboe at the beginning of the 2005-2006 season. Shortly after joining the orchestra, she began performing with the Springfield Symphony Orchestra Woodwind Quintet. Lisa has a Bachelor of Music degree and Bachelor of Music Education degree from The Ohio State University, where she studied with Robert Sorton, former assistant principal oboist with the Detroit Symphony. She holds a Master of Music degree from Carnegie Mellon University, where she studied with Cynthia DeAlmeida, principal oboist with the Pittsburgh Symphony. Lisa has served as Double Reed Specialist for the Columbus School District. She has performed with the Columbus Symphony, Ohio Valley Symphony, Pro Musica, Canton Symphony, and Lima Symphony, and has performed in such venues as Carnegie Hall and Symphony Hall in Boston, with Carnegie Mellon's Philharmonic. Lisa began teaching at Wittenberg in 2006. lgrove@wittenberg.edu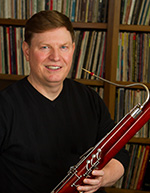 Joseph Hesseman
Adjunct Instructor
bassoon
Joseph Hesseman has performed in professional orchestras and bands for over 30 years (Cleveland Pops, Cincinnati Pops, Dayton Philharmonic, Dayton Bach Society, Whitewater Opera, Dayton Philharmonic Concert Band, Springfield Concert Band, and Springfield Symphony) and with such chamber groups as the Springfield Symphony Woodwind Quintet, Wright State University Faculty Woodwind Quintet and Trio, and Festive Musique. Hesseman has performed with numerous jazz, country, and pop artists, including Doc Severinsen, Lionel Hampton, Johnny Lytle, Anacani, Crystal Gayle, Steve Allen, Glen Campbell, "The Miracles," and the USO Show Troupe. A distinguished retired military band veteran, Mr. Hesseman performed thousands of concerts to millions of audience members throughout the United States, Canada, and Europe with various wind ensembles. He presented numerous world premieres and recorded 13 compositions on seven CD recordings. Hesseman was honored for his musical achievements as a two-time recipient of the George S. Howard Citation of Musical Excellence for Military Concert Bands by the John Philip Sousa Foundation as a member of the United States Air Force Band of Flight Concert Band.
Joe Hesseman's record as a music educator includes fourteen consecutive years having all of his young bassoonists win superior ratings at OMEA Solo and Ensemble Adjudicated Events. In 2001, two of his college bassoonists were honored by being selected for the Ohio Private College Instrumental Conductors Honor Band, which performed at the Ohio Music Educators Conference. Mr. Hesseman has served as a Kaleidoscope Orchestra Camp faculty member and coached at the Springfield Youth Symphony Retreats. He is a graduate of the U.S. Armed Forces School of Music in Norfolk, Virginia and received a Bachelor of Music Education degree from Wright State University, where he was a music scholarship recipient and a concerto competition winner. In 2006, Joe was honored as one of Wright State University's outstanding music alumni. Joe's primary bassoon instructors/mentors include Mike Suman, Mike Scarini, Bert Corderman, Gunter Piesk, Bobby C. Hawkins, Theodore Atsalis, Richard Carnright, William Jobert, and Christopher Weait. A former general music teacher at St. Theresa Local School in Springfield, Ohio, he currently serves as a music instructor in the Centerville, Ohio School District. Joseph Hesseman joined the Wittenberg University faculty in 1997. jhesseman@wittenberg.edu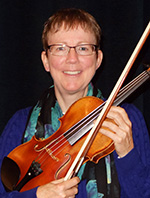 Betsey Hofeldt
Adjunct Instructor
violin, viola
Betsey Hofeldt conducts the Dayton Philharmonic Youth Strings and is a member of the Dayton Philharmonic Orchestra. Prior to joining the Orchestra, she performed with the Virginia Symphony, the Ohio Chamber Orchestra, the Toledo Symphony, and the Omaha Symphony. She holds a Bachelor of Music Education from St. Olaf College, Master of Music in violin from University of Illinois, and D.M.A. in violin performance from the College-Conservatory of Music of the University of Cincinnati. Dr. Hofeldt's doctoral dissertation dissected the Suzuki's violin method books and analyzed its technical elements. Chamber music is a vital part of Dr. Hofeldt's musical life, and she has performed for the last 18 years with her husband, cellist Mark Hofeldt, in the Hofeldt-Phillips Piano Trio, playing throughout the region - at Earlham College, Miami University, the University of Dayton, the Cincinnati Art Museum and the Dayton Art Institute. Hofeldt's teachers have included Paul Rolland, Sergiu Luca, Naoko Tanaka, and Won Bin Yim. She has attended the Aspen Music Festival, the Blossom Music Festival, and the Colorado Music Festival, and has coached with the LaSalle and Tokyo String Quartets. Betsey began teaching at Wittenberg in 2011. ehofeldt@wittenberg.edu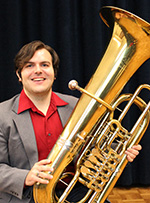 Andrew Jones
Adjunct Instructor
tuba & euphonium
Andrew Jones is working towards a doctorate in performance at the University of Cincinnati College-Conservatory of Music. He holds a masters degree in performance from the University of Arkansas and a bachelors degree in music education and performance from the University of North Texas. His primary teachers have included Timothy J. Northcut, Dr. Benjamin Pierce, Donald C. Little, and Ed Jones.
Jones has played with the Fort Worth Symphony Orchestra, the Blue Ash Montgomery Symphony Orchestra, the Arkansas Philharmonic Orchestra, the North Texas Wind Symphony, and the Legacy Brass Quintet. He has been a finalist in the International Tuba Euphonium Association Arnold Jacobs Mock Orchestral Tuba Competition, and the International Women's Brass Conference Brass Orchestral Excerpts Competition. Jones has also been a semi-finalist in the student and artist division of the Leonard Falcone International Tuba and Euphonium Solo Competition. In addition to Wittenberg, Jones teaches tuba and euphonium for the bands of Milford Junior and Senior High Schools in Milford, Ohio and Randall K. Cooper High School in Union, Kentucky. Jones began teaching at Wittenberg in 2015. jonesa32@wittenberg.edu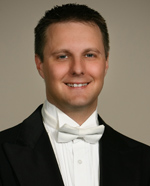 Brandon Jones
Associate Professor
conducting, music education, music technology, music history; Symphonic Band, Chamber Orchestra; Coordinator of Instrumental Music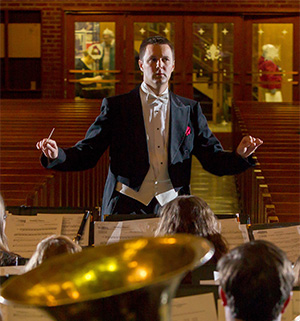 Prior to his graduate studies at the University of Cincinnati College-Conservatory of Music, Jones taught band at the junior high and high school levels in the Princeton City School District. He is in demand as a clinician and guest conductor for area schools and honor bands. He has appeared as a guest conductor with the Miami University Wind Ensemble, Xavier University Symphonic Wind Ensemble, Ohio Private College Instrumental Conductors Association Honors Concert Band, and Messiah College Symphony Orchestra. Dr. Jones has presented at the National Conference of the College Band Directors National Association and is a contributing author to the best-selling Teaching Music through Performance in Band series (GIA Publications). Jones holds professional memberships in the College Band Directors National Association, Ohio Private College Instrumental Conductors Association, National Association for Music Education, and is an alumnus of Phi Mu Alpha Sinfonia Fraternity and the Madison Scouts Drum and Bugle Corps. He was co-chair of the 2008 Ohio Music Education Association State Professional Development Conference in Cincinnati, the third largest conference of its kind in the nation.
Dr. Jones received a Bachelor of Music in Music Education from Miami University, where he studied conducting with Gary Speck. He received the Master of Music and Doctor of Musical Arts in Wind Conducting from the University of Cincinnati College-Conservatory of Music as a student of Rodney Winther. Jones lives in Mason, Ohio with his wife, Stephanie, founder of the Mason City School District's orchestra program, and their daughters Cecilia and Alaina. In his free time, he enjoys bicycling, home brewing, playing acoustic guitar, and playing strategy board games. Brandon Jones came to Wittenberg in 2006. bjones@wittenberg.edu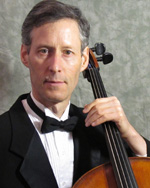 Daniel Kazez
Professor
music theory, world music, cello, bass
Daniel Kazez has performed recitals throughout Europe, including London (the Manor House and Sternberg Centre), Paris (Temple Victoire), Brussels (Cercle Ben Gurion), Salzburg (Chabad House), and Cardiff, Wales. His Paris and Florence debuts earned him standing ovations and he performed to a standing-room-only audience at Rome's Il Pitigliani. He has performed at international music festivals in Berlin, Prague, and India and presented a concert tour in Eastern Europe with performances in the Czech Republic (Congress Hall, Prague; Jesuit Hall, Český Krumlov), Poland (Herbst Palace, Łódź; Ośrodek Promocji Kultury, Częstochowa; Centrum Kultury Żydowskiej, Cracow), and Hungary (Bálint Zsidó Közösségi Ház, Budapest. Kazez's first performances in Africa were in Casablanca (Abbon al Abdullah) and in Morocco's three "imperial cities": Royal University Moulay Ismaïl in Meknes, National Conservatory of Music in Marrakesh, and Centre Maïmonides in Fez (as part of Morocco's thirty-seventh national Fête du Trône celebration). Kazez has performed and lectured in Bangkok and northern Thailand and has recorded with the Bombay Film Orchestra (Hum Ko Deewana Kar Gaye, 2006). .
Dr. Kazez is the author of more than a dozen scholarly articles on music theory, pedagogy, and performance, a dozen editions of music (published by Alfred, Presser, Southern, Ludwig, and MMB), and two books. Rhythm Reading: Elementary Through Advanced Training (W.W. Norton) is the most widely used rhythm textbook in the U.S. Kazez has given talks at twenty-five leading U.S. music schools, including the Manhattan School of Music and the University of Texas. He conducted research in India and gave a series of 14 lectures and performances, including appearances in Bombay (Indian Institute of Technology and Indira Gandhi Institute of Development Research), Madras (one-week residency at the School of the Krishnamurti Foundation in Madras), and Pune (Kala Chhaya Festival). Kazez was editor and principal contributor for Imprints of India: A Brief Guide to Indian Music, Dance, and the Visual Arts. Kazez has conducted research in Java and Bali (gamelan music, dance, and shadow puppet theater) and in Turkey and Greece (urban folk music). His activities have been supported by grants from the Lilly Foundation, Wray Foundation, and Ohio Arts Council. He was the recipient of the 1996 Matthies Award and a 1996-1997 University of Chicago/Andrew W. Mellon Foundation Fellowship. Kazez earned a Bachelor of Music degree at Oberlin Conservatory, Master of Music at Peabody Conservatory (Johns Hopkins), and D.M.A. at the University of Michigan-Ann Arbor. He joined the Wittenberg faculty in 1986. In addition to music, Dan enjoys bicycling and genealogy (tracing his family tree back to pre-surname records). dkazez@wittenberg.edu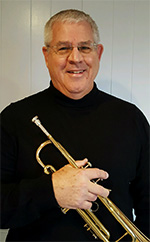 David Leapley
Adjunct Instructor
trumpet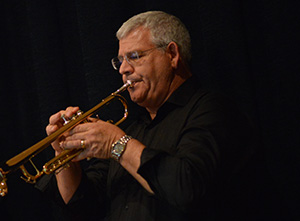 David Leapley taught instrumental music for 30 years in public schools in Ohio and has taught trumpet to students at all levels for over 35 years. A former member of the Springfield Symphony Orchestra, he has performed with the Columbus Symphony and various dance bands and combos in the Dayton-Springfield area. Dave is a member of the Ohio Valley British Brass Band and is the director of the Greene County Adult Concert Band. He holds a Bachelor of Music degree from Capital University and a master's degree from The Ohio State University. Dave has studied with Ray Eubanks, Richard Suddendorf, Carmine Caruso, and Lowell "Bud" Arthur. Dave has also studied with Bert Truax, a former member of the Dallas and Philadelphia orchestras and a student of James Stamp. He is a member of the National Association for Music Education and the International Trumpet Guild, and has served as a district president and contest chairperson for the Ohio Music Education Association. Dave joined the Wittenberg faculty in 2012. leapleyd@wittenberg.edu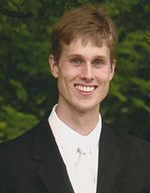 William Mattox
Adjunct Instructor
voice
Will Mattox earned a B.S. in economics from Vanderbilt University, B.M. in vocal performance at Wittenberg, and an M.M. in vocal performance at Texas Christian University. His recent operatic roles include Melchior in Menotti's Amahl and the Night Visitors, Amida in Cavalli's L'Ormindo, Dr. Falke in Strauss's Die Fledermaus, Papageno in Mozart's Die Zauberflöte, and Morales in Bizet's Carmen. His recent recital performances have included Schubert's Schwanengesang and song cycles Die schöne Müllerin and Winterreise. Will has performed with the Springfield Symphony Orchestra, Choral Arts of Springfield, Dayton Opera, Fort Worth Opera, Regal Opera (Texas), and Tarrant Opera Project (Texas). He is a staff member of the American Institute of Musical Studies (AIMS), a summer program for singers in Graz, Austria. Mr. Mattox is a member of Pi Kappa Lambda (an honorary music society) and a member of the Springfield Symphony Orchestra's board of trustees. He joined the Wittenberg faculty in fall 2013. s08.wmattox@wittenberg.edu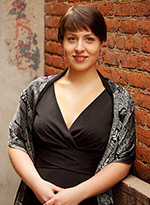 Fotina Naumenko
Adjunct Instructor
voice; Opera Studio
Fotina Naumenko earned a B.M. in voice at Eastman School of Music, M.M. at University of Cincinnati College-Conservatory of Music, Special Diploma in Voice at the Rimsky-Korsakov State Conservatory of Music in St. Petersburg, Russia (supported by a Fulbright grant), and is now working on a D.M.A. at CCM. Fotina has sung with notable vocal ensembles around the country, including Conspirare (Austin, Texas), the Vocal Arts Ensemble (Cincinnati, Ohio), Voices (Rochester, New York) and the Patriarch Tikhon Choir (Waymart, Pennsylvania). In April 2016 Fotina was featured as a soloist and ensemble member in a production of Handel's Israel in Egypt with the Queen City Chamber Opera. Recent operatic roles have included Amor in Gluck's Orfeo ed Euridice and Brigitta in Tchaikovsky's Iolanta, both with the Theater of Opera and Ballet at the Rimsky-Korsakov State Conservatory in St. Petersburg, Russia. Past performance highlights include Euridice in Monteverdi's L'Orfeo and Coridon in Handel's Acis and Galatea with the Cincinnati Chamber Opera, as well as Blondchen in Mozart's Abduction from the Seraglio with the Delaware Valley Opera. Fotina has a particular interest in contemporary music. In 2014, she performed the title role in Toshio Hosokawa's Matsukaze, an ethereal new opera based on a Japanese play from the 15th century. She performed the role of Jean in Douglas Pew's A Game of Hearts with the North American New Opera Workshop. Ms. Naumenko joined the Wittenberg faculty in fall 2016. naumenkof@wittenberg.edu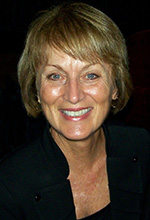 Jeanne Norton
Adjunct Instructor
harp
Jeanne Norton is founder and director of HarpOhio, a performing ensemble for pre-college students, as well as a founding member of COSMOS, a viola-flute-harp trio, and harpist for Opera Naples (Naples, Florida). She has been principal harpist and soloist with the ProMusica Chamber Orchestra in Columbus, Ohio and is substitute harpist for the Columbus Symphony. Ms. Norton has held the position of principal harpist and soloist with the Florida Symphony Orchestra and the American Festival Orchestra (Salerno, Italy). She has performed with the orchestras of Akron, Atlanta, Canton, Charleston, and Wheeling as well as the Naples-Marco Island Philharmonic and the Lancaster and Cincinnati May Festivals. Strongly committed to encouraging new music for the harp, Ms. Norton commissioned two works by Harriet Bolz: Narrative Impromptu (for harp solo) and Repartee Rhapsodic (for flute and harp). In 2010 she premiered and recorded Jerry Casey's Two Christmas Songs. In collaboration with Katherine Borst Jones, Ms. Norton commissioned a work for soprano, flute, and harp by Dale Warland and recorded a CD entitled Paradise. A recent collaboration with ProMusica Chamber Orchestra resulted in the commission and premiere of a concerto for flute, harp, and chamber orchestra by Stephen Montague entitled Disparate Dances. Ms. Norton travels and performs frequently with the COSMOS Trio and has premiered commissioned works for the trio by Steven Main, Stephen Paulus, Libby Larsen, Andrew Boysen, and Donald Harris (A Letter from Home). COSMOS expects to release its first recording of these works in 2014. In 1985, Ms. Norton served as national conference chair for the American Harp Society's Salzedo Centennial Celebration. She is now a member of the Society's board of directors. Ms. Norton is a graduate of the Cleveland Institute of Music, where she studied with Alice Chalifoux; and she has also studied with Marjorie Tyre (harpist first of the Philadelphia Orchestra and later of the Metropolitan Opera). Jeanne Norton joined the Wittenberg faculty in fall 2013. nortonc@wittenberg.edu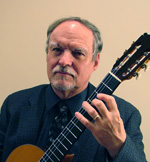 Lawrence (Skip) Pitzer
Adjunct Instructor
classical guitar
Lawrence Pitzer has studied guitar with Ramon Estrada, Miguel Alboniz, and Jeffery Van, and has attended lute master classes with Paul O'Dette and Ronn McFarlane. He has also studied recorder and early music with Shelly Gruskin and Scott Reis. Pitzer performed with the Hyland Ensemble from 1985 to 1993 and currently performs with Wind in the Woods, an early music ensemble. He holds a BFA degree from Miami University. From 1972 to 1985 he taught guitar at Wright State University and since 1985 has served on the faculty of Cedarville University. Lawrence Pitzer began teaching guitar at Wittenberg in 1971. lpitzer@wittenberg.edu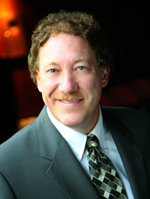 David Schubert
Professor
voice, lyric diction, vocal pedagogy, music appreciation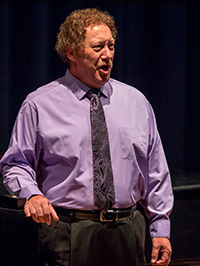 Baritone David Schubert holds degrees from Baldwin-Wallace College and Boston University and a Doctor of Musical Arts degree from the University of Oklahoma. As a soloist, he has performed in oratorios and has sung major roles in several operas, including Faust, Don Giovanni, The Mikado, Street Scenes, and Amahl and the Night Visitors. Most recently, he sang the role of Coll in the premier of David Caudill's opera The Shepherd's Story. David Schubert is an active recitalist, specializing in English art song (particularly the music of Gerald Finzi) and German Lieder. As a member of the Doscher Vocal Quartet, Schubert presented a series of recitals of the music of Johannes Brahms and Franz Schubert. He recently collaborated with performers from England and Ireland to present several concerts focusing on the music of the United Kingdom. In 1994, Dr. Schubert was one of twelve vocalists nationwide selected for the fourth annual National Association of Teachers of Singing (NATS) Internship Program. In 1995, he performed during the NATS national convention and in 1997 presented a lecture recital for the College Music Society's Southern Chapter Convention. He has coached with Arlene Auger, Richard Conrad, Barbara Honn, Jack Lee, George Shirley, and John Wustman. Dr. Schubert joined the Wittenberg faculty in 2007. dschubert@wittenberg.edu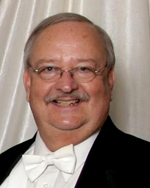 Denver Seifried
Adjunct Instructor
trombone
Denver Seifried retired from Greenon High School in 1995 after 28 years as a band and instrumental educator. Since 1965 he has been bass trombonist with the Springfield Symphony and he is a member of the Symphony's Brass Quartet and Quintet. Seifried has frequently appeared with the Dayton Jazz Orchestra, the Johnny Mack Super Big Band, and the Wright State University/Community Trombone Ensemble. He has toured with musicals such as Damn Yankees and A Chorus Line and is a member of the International Trombone Association. Seifried holds a BS in music education from Bowling Green State University and a Master of Music in trombone performance from the University of North Texas. He has studied with Betty Glover, formerly of the College-Conservatory of Music at the University of Cincinnati. He joined the Wittenberg faculty in 2000. dseifried@wittenberg.edu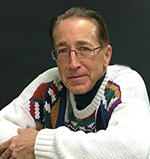 Mark Smarelli
Adjunct Instructor
percussion
Mark Smarelli holds a Bachelor of Music degree and Master of Music degree, both in applied percussion, from Ohio University in Athens. And he has studied at Berklee College of Music in Boston. Marks is President of the Springfield Musician's Association and has performed percussion with the Springfield Symphony Orchestra since 1991. He plays vibraphone with the jazz group Good Vibes. The group, which also includes guitarist Chuck Young, drummer John Dessinger, and bassist Jim Bonecutter, has been together for more than a decade, performing jazz standards, pop tunes, and Latin-style selections. For many years, Mark's late father, John Smarelli, taught violin, performed in a faculty trio, and conducted the String Ensemble at Wittenberg, as well as teaching strings and directing orchestra in Springfield city schools. Mark is been a music teacher in the Springfield city schools since 1999, teaching at Roosevelt, Hayward, and Schaefer middle schools. He has been teaching at Wittenberg since 1993. msmarelli@wittenberg.edu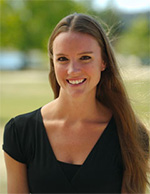 Crystal Stabenow
Adjunct Instructor
voice
Mezzo-soprano Crystal Stabenow earned a Bachelor of Music degree in vocal performance at Hope College and a Master of Music degree, also in vocal performance, at Ohio State. Her teachers have included Robin Rice, Eileen Davis, and Margaret Kennedy-Dygas and she has performed in master classes for Ruth Drucker and Richard Miller. Stabenow has performed major roles in numerous operas, operettas, and musicals, including Ohio State's production of Monteverdi's L'incoronazione di Poppea and Southern Ohio Light Opera's production of Gilbert and Sullivan's The Gondoliers. From 2005 to 2011 she was a member of Opera Columbus's professional chorus and she worked with their education and outreach program. As a soloist, Stabenow has premiered works at the Port Clinton Performing Arts Festival. She particularly enjoys singing German Lieder. Stabenow has been teaching at Wittenberg since 2015.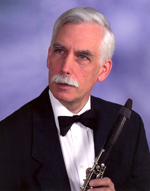 Richard York
Adjunct Instructor
clarinet
Richard York is a native of the Buffalo (New York) area, where he studied with Allen Siegel and James Pyne of the Buffalo Philharmonic. While an undergraduate at Oberlin College, where he earned a B.A., he studied clarinet with George Wain and appeared as soloist with the Oberlin Orchestra. He has also studied with Stanley Hasty at the Eastman School of Music, Thomas Peterson of the Cleveland Orchestra, and Achille Rossi of the Indianapolis Symphony. He has performed with the American Wind Symphony Orchestra and the Oberlin Opera Theater during their summer seasons and has been principal clarinetist of the Springfield Symphony Orchestra for over 20 years. York is a frequent performer of chamber music and has presented concerts at area museums and colleges. He has appeared as soloist with the Springfield Symphony, the Clarence (New York) Summer Orchestra, the Springfield Concert Band, and bands at Yellow Springs and Fairborn high schools. Mr. York joined the Wittenberg faculty in 1977. ryork@wittenberg.edu
 
Thomas Zinninger
Adjunct Instructor
saxophone; Jazz Ensemble
Thomas Zinninger has been an active saxophonist and music educator in Ohio, Kentucky, and Indiana for the past 15 years. Equally comfortable in several different styles, his musical experience ranges from jazz (combo and big band) to classical (chamber and orchestral). Zinninger has performed with the Cincinnati Chamber Orchestra, Richmond Symphony Orchestra, Frank Simon Band, Chamber Winds of Louisville, Cincinnati Contemporary Jazz Orchestra, RL Big Band, and Don Kreckel Orchestra. As a soloist, he has premiered new arrangements for the saxophone at the 16th World Saxophone Congress (in St. Andrews, Scotland), and at the 2012 and 2014 North American Saxophone Alliance National Conferences. As an educator, Zinninger has served both as a graduate assistant and on the faculty at the College-Conservatory of Music (CCM) in Cincinnati. His duties have included teaching applied saxophone and teaching courses in jazz improvisation and jazz appreciation. Zinninger received a B.M.E. from the University of Louisville and M.M. and D.M.A. at CCM. Dr. Zinninger joined the Wittenberg faculty in 2014. zinningert@wittenberg.edu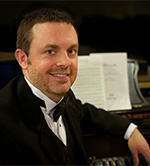 Erik Zinter
Visiting Assistant Professor
music education, choral conducting, choral methods, aural skills; Wittenberg Choir, Wittenberg Singers; Director of Choral Activities
Erik Zinter earned a Bachelor of Arts in vocal music education at Concordia College (Moorhead, Minn.), Master of Music in choral conducting and literature at the University of Illinois (Urbana-Champaign), and D.M.A. in choral conducting at North Dakota State, where he served as a graduate teaching assistant. Dr. Zinter taught secondary music for more than ten years, first at Oak Grove Lutheran School in Fargo, North Dakota and then at Faribault High School in Minn. He has served as conductor of several church choruses, community choruses, and choral festivals, and he has been the music director for eight musicals, including Back to the 80's, Cats, Once Upon A Mattress, and Seussical the Musical. Zinter has given invited presentations on ornamentation, intonation, musicianship, and choral seating, at two Minnesota Music Educators Association conventions and at a Choral Music of the Americas Symposium (Fargo). Dr. Zinter joined the Wittenberg faculty in fall 2015. zintere@wittenberg.edu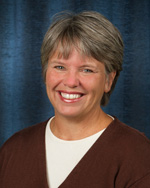 Diane Slagle
Staff accompanist
Diane Slagle performs concerts and recitals with Wittenberg students and faculty, with guest artists, and as accompanist of Wittenberg Singers. For several years, she has performed as accompanist for Wittenberg opera performances. She has taught elementary music and has directed several adult and children's choruses. Diane maintains a private piano studio from her home in London, Ohio. She served as Children's Choir Director, Christmas play director, and substitute organist for the First United Methodist Church in London for many years and is now accompanist for Columbus Chamber Singers. Diane graduated summa cum laude with a Bachelor of Music Education degree from the University of Cincinnati College-Conservatory of Music, and she earned Orff-Schulwerk Certification from the Lamont School of Music at the University of Denver. Slagle came to Wittenberg in 2002.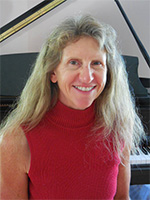 Laurie Smith
Staff accompanist
Laurie Smith is pianist for Wittenberg Choir and Wittenberg Singers. She received a B.S. in electrical engineering at Virginia Tech, and while there accompanied the Virginia Tech Studio Singers. In 2016, Laurie made her Carnegie Hall debut with her daughter, flutist Rachel Decker, as first-place winners in the American Protégé International Music Talent Competition. Her piano duo with Jordan Mathews (B.A. in Music '15) received an honorable mention in the Bradshaw & Buono International Piano Competition. Laurie plays piano in the Springfield Symphony Orchestra as a sub or extra and is keyboardist for a praise band at Upper Valley Community Church in Piqua, Ohio. She enjoys cycling and has biked across the country, from California to Florida, as well as from Florida to Pennsylvania. Smith came to Wittenberg in 2016. smithl22@wittenberg.edu