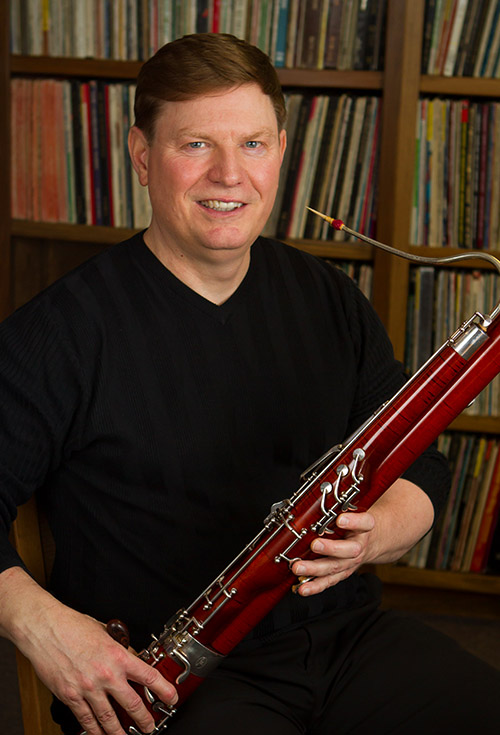 Adjunct Instructor
Bassoon
jhesseman@wittenberg.edu
Joseph Hesseman has performed in professional orchestras and bands for over 30 years (Cleveland Pops, Cincinnati Pops, Dayton Philharmonic, Dayton Bach Society, Whitewater Opera, Dayton Philharmonic Concert Band, Springfield Concert Band, and Springfield Symphony) and with such chamber groups as the Springfield Symphony Woodwind Quintet, Wright State University Faculty Woodwind Quintet and Trio, and Festive Musique. Hesseman has performed with numerous jazz, country, and pop artists, including Doc Severinsen, Lionel Hampton, Johnny Lytle, Anacani, Crystal Gayle, Steve Allen, Glen Campbell, "The Miracles," and the USO Show Troupe. A distinguished retired military band veteran, Mr. Hesseman performed thousands of concerts to millions of audience members throughout the United States, Canada, and Europe with various wind ensembles. He presented numerous world premieres and recorded 13 compositions on seven CD recordings. Hesseman was honored for his musical achievements as a two-time recipient of the George S. Howard Citation of Musical Excellence for Military Concert Bands by the John Philip Sousa Foundation as a member of the United States Air Force Band of Flight Concert Band.
Joe Hesseman's record as a music educator includes fourteen consecutive years having all of his young bassoonists win superior ratings at OMEA Solo and Ensemble Adjudicated Events. In 2001, two of his college bassoonists were honored by being selected for the Ohio Private College Instrumental Conductors Honor Band, which performed at the Ohio Music Educators Conference. Mr. Hesseman has served as a Kaleidoscope Orchestra Camp faculty member and coached at the Springfield Youth Symphony Retreats. He is a graduate of the U.S. Armed Forces School of Music in Norfolk, Virginia and received a Bachelor of Music Education degree from Wright State University, where he was a music scholarship recipient and a concerto competition winner. In 2006, Joe was honored as one of Wright State University's outstanding music alumni. Joe's primary bassoon instructors/mentors include Mike Suman, Mike Scarini, Bert Corderman, Gunter Piesk, Bobby C. Hawkins, Theodore Atsalis, Richard Carnright, William Jobert, and Christopher Weait.
A former general music teacher at St. Theresa Local School in Springfield, Ohio, Mr. Hesseman currently serves as a music instructor in the Centerville, Ohio School District. He joined the Wittenberg University faculty in 1997.