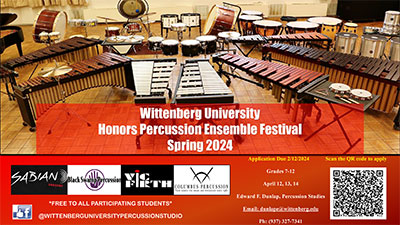 Click image to enlarge
The Wittenberg University Percussion Studio
At Wittenberg University, Percussion Ensemble is open to all students. The chamber ensemble explores music of many different genres such as new and contemporary works, concert percussion, Cuban, Brazilian, Steel Pan, and African Folkloric Music. In addition, the Percussion Ensemble collaborates with other departments within music and the university. The ensemble plays two concerts a semester.
Rehearsals: Monday and Wednesday 6:00-7:00 PM
During the Spring, Wittenberg University holds an annual Honors Percussion Ensemble Festival. This opportunity is completely free and available to students grades 7-12.
Director, Mr. Edward F. Dunlap (dunlape@wittenberg.edu)
Percussion Studio Guest Artists/ Residencies
Valerie Naranjo
Third Coast Percussion