This year as you fill out your tax forms you may have the opportunity to claim substantial tax credits to defray the cost of paying for college. While the University is unable to provide advice or guidance regarding your personal tax situation, we are pleased to share the following information:
Depending on your income (or your family's income, if you are a dependent), whether you were considered full or half-time enrolled, and the amount of your qualified educational expenses for the year, you may be eligible for a federal education tax credit. You can find detailed information about claiming education tax credits on the following links:
The Form 1098-T may assist you in completing IRS Form 8863 - the form used for calculating the education tax credits that a taxpayer may claim as part of your tax return.
As a 1098T recipient, should you view that your records indicate that you paid a different amount than what was reported in Box 1, please refer to IRS Publication 970 which states, "When figuring an education credit, use only the amounts you paid and/or are deemed to have paid during the tax year for qualified educational expenses. The amounts on Form 1098-T (Box 1), might be different than the amount paid and/or are deemed to have paid". Therefore, the amount reported in Box 1 on the 1098-T is not necessarily equal to the amount paid to the university for qualified tuition and related expenses. It is the responsibility of the taxpayer to utilize their own records to determine what they paid toward qualified expenses. If you need to retrieve historical records on your student account, please utilize the Statement On-Demand feature found in the MyWitt portal and enter the dates in which you want to pull information.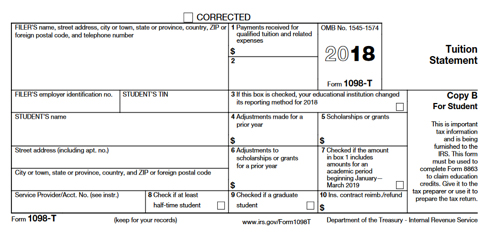 Form 1098-T Frequently Asked Questions
Why did I receive a Form 1098-T?
Receipt of a Form 1098-T indicates that you were enrolled in at least one course at Wittenberg University during the last calendar year. It does not mean that you are eligible for a tuition and fees deduction, American Opportunity Tax Credit, or Lifetime Learning Credit. According to federal tax regulations, determination of payments made for qualified tuition and related expenses is the responsibility of the tax payer.
What time period does my 1098-T cover?
Information on the 1098-T is reported for each calendar year, January 1 through December 31. The IRS requires all taxpayers and universities to report this information on a calendar year basis which is different than the academic year (August – May). The 1098-T summarizes payments from any source (actual payments, loans, scholarships and grants) for qualified tuition and fees in Box 1 and only Scholarships and Grants in Box 5 that have been posted to a student's account during the calendar year. All payments from any source made in a calendar year will be reported on the calendar year's 1098T regardless of what semester for which the payment is made. Reporting activity on a calendar year basis creates a timing difference on the student's 1098-T. This difference is caused by the spring semester activity being posted in different calendar years; the tuition is posted in December (approximately one month prior to the beginning of the term) and the associated scholarships and grants are posted in January, as required by Federal regulations. The IRS requires institutions to report on form 1098-T in this manner.
How do I get a 1098-T?
If you were enrolled in at least one course at Wittenberg University during the last calendar year, you will have a 1098-T mailed by January 31st to the home address you have on record with the university.