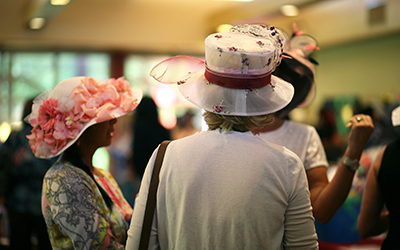 The Wittenberg Guild presents its 63rd annual Scholarship Style Show on Saturday, May 18, 2019, in the Center Dining Room of the Benham-Pence Student Center at Wittenberg. With a theme of "The Pursuit of Style – J'Adore Paris," the event will include silent and live auctions, lunch, and style show featuring summer fashions from local boutiques.
The brunch and style show begin at 11:30 a.m. Local volunteer models will don summer fashions.
The Wittenberg Guild is a women's organization focused on promoting Wittenberg and utilizing its educational resources to enrich the local community, as well as awarding scholarships to students from Clark County who plan to attend the university. Through the years, the organization has raised more than $1 million for scholarship support, campus landscaping, sculptures and artwork for the student center, renovation of the Ann Miller Gallery in Koch Hall and pianos for Krieg Hall.
The cost of this year's event is $30 and $15 for children under the age of 12 who reserve in advance. At the door tickets will be $35 for adults and $18 for children. Wittenberg faculty and staff members can attend for the reduced price of $25. Space is limited to the first 250 people who register. To make reservations, contact the Wittenberg Office of University Advancement at (937) 327-6405. Checks can be sent to The Wittenberg Guild, c/o Sophia Vandiford, P.O. Box 720, Springfield, OH 45501.