Unity March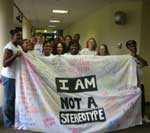 Developed in an effort to promote interracial unity between Wittenberg University and the City of Springfield. Each year, students organize the march that begins on campus, moves through the City of Springfield, and ends back on campus with singing and activities that reflect the unity seen in this community. Bands, choirs, and student organizations all cooperate to make this one of the most successful campus events each year.
Build A Better Wittenberg

Coordinated by members of our Concerned Black Students and Student Senate organizations, the Build A Better Wittenberg campaign was designed to increase both awareness and tolerance on diversity and multiculturalism here at the university.
Multicultural Connectors Program
The Connectors program links incoming first year students with current matriculating students to get them involved on campus. The Connectors program is based on the research on Vincent Tinto who recognized that students who are connected / involved with the campus community i.e. students, faculty or staff feel as though they are a part of the campus community. As a result, these students are more likely to strive and succeed in college. Additionally if students feel connected they will spend less time worrying about fitting in and thus strive for academic success.