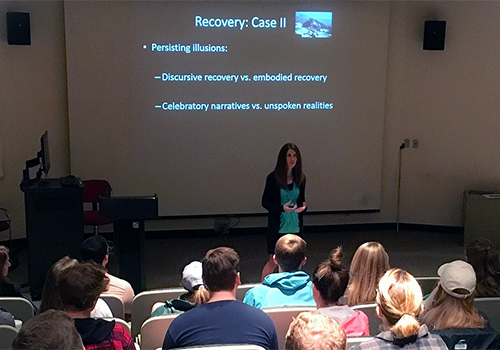 This past week, Laura Russell '04 returned to Wittenberg to speak at the Communication colloquium about her research "Unmasking 'ill'usions of Wellness in Contemporary Life." Russell, who was one of Wittenberg's first communication graduates, is now an associate professor of Communication at Denison University. Throughout her time at Wittenberg, Russell was involved in a number of activities. She was part of the Communication Club (now defunct) and Lambda Pi Eta, the national Communication honors society. Russell was also involved in Circle K, a leadership group focused on volunteer work. After graduating from Wittenberg, she ran the Oral Communication Center for a year.
Russell began the colloquium by informing the audience that she owes a lot to what she was able to learn here. She then began to dive into her research. "We have a culture that values a strong work ethic," Russell said. A big section of Russell's presentation was focused on her research on workaholics. She stated that people often confuse a strong work ethic with the issue known as workaholism. From her ethnographic research at a workaholics conference, Russell discovered that many people feel their worth is based on what they produce. Therefore, people with a strong work ethic are easily absorbed by their work, resulting in workaholism.
Recovery was another major aspect of Russell's research, particularly how families use communication to recover from a crisis. She described how recovery is often characterized in narrative form as a celebratory narrative with unspoken realities. Russell was inspired to start this research due to her brother's hiking accident in Wyoming. Her brother, a collegiate golfer, had a near death experience but then recovered to play the "best golf game of his life" shortly afterwards. While others saw this as an inspirational story, Russell only remembered the suffering she and her family went through. "Often in life when a crisis happens, you can repair, but you can't go back," Russell said. While Russell has achieved a lot since she graduated, she recognizes the fact that "it began here."
"I will forever be indebted to Wittenberg," she concluded.
By Nicole Fracasso ('18)