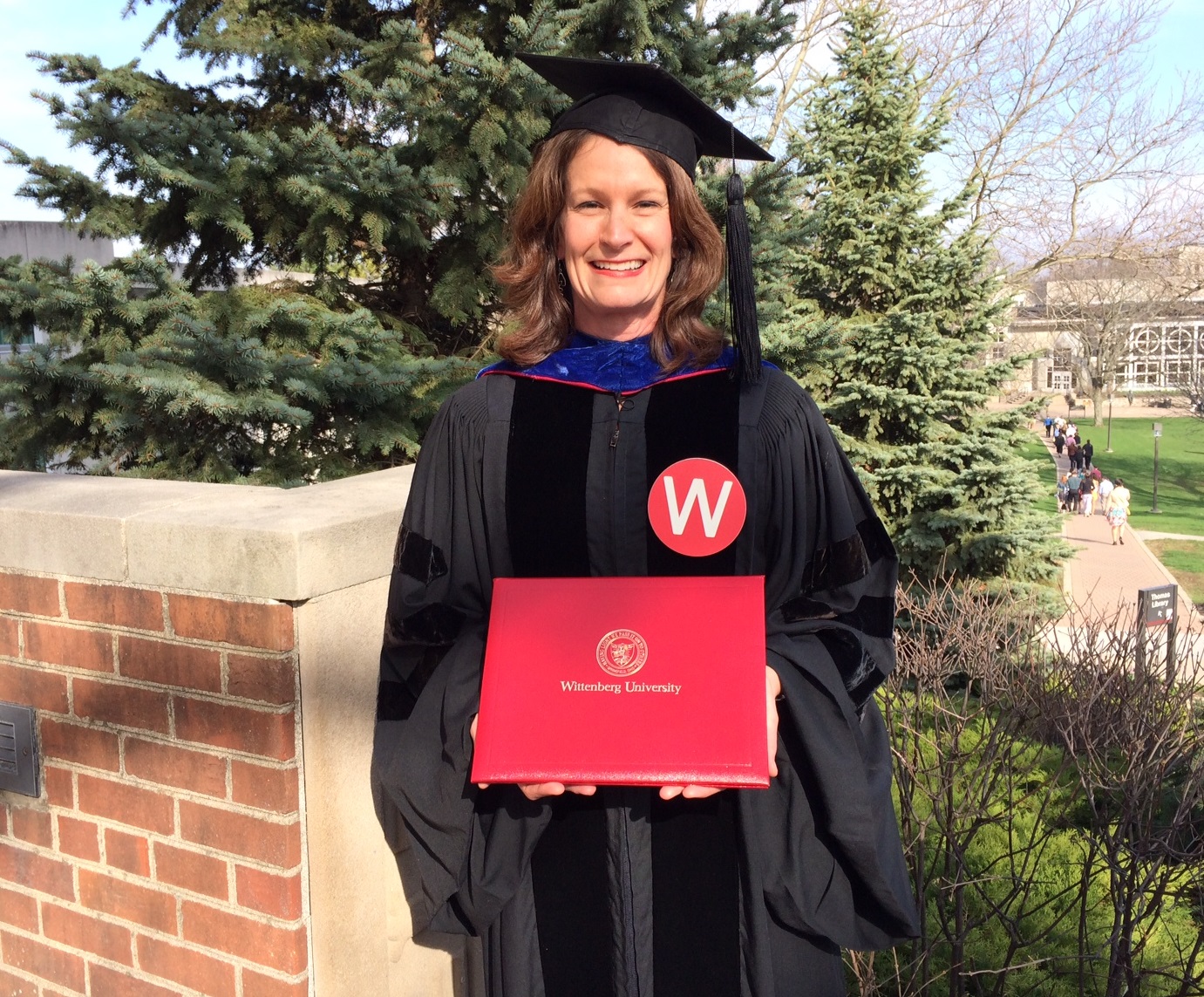 Thanks to secret nominations from students, colleagues, and alumni, Dr. Catherine Waggoner, Professor of Communication, received the Alumni Association Award for Distinguished Teaching at the 2014 Honors Convocation. This award is presented in recognition of superior classroom teaching and contributions to the academic life of the students and faculty of Wittenberg University, and it is the highest teaching honor a Wittenberg professor can receive.
Former students Eric Rusnak ('00) and Kristen Mathias ('00) presented the award, drawing from their own experiences and from the many nominations that were received. In their remarks, they noted Dr. Waggoner's initiative to create the Communication major. Even before the major existed, however, she created innovative Communication courses and inter-departmental majors to meet students' interests. Later, she collaborated with administration and faculty members to propose and create what is now one of the biggest and most popular majors on campus today.
"Dr. Waggoner is a visionary, a role model, and a dedicated servant to the students of Wittenberg. She made a lasting impression on me, and on countless others," said Rusnak. "Dr. Waggoner served as an advisor on my senior thesis in the Business Department, and she taught me many of the effective communication and presentation skills I use today as a litigator."
Waggoner, who began her career at Wittenberg in 1995 in the Department of Theatre and Dance, has broadened students' opportunities within and beyond the classroom. In 2012, she created an alternative spring break service trip to the Mississippi Delta, an area that is near and dear to her home and heart. In the classroom she continues to "pass the light" and create unforgettable experiences with her students.
"Dr. Waggoner ranks in my top professors because her teaching style fit, encourages, and expanded my learning style. I learned early on that I could succeed in school with very little effort, but I always loved and worked hardest for the professors that made me want to put in the effort," said Kristen Mathias ('00). "Dr. Waggoner is one of those professors. I wish I could encapsulate her better, but if you want to know more, sit in on a class of hers. Her strength as a teacher is unmistakable."
Congratulations, Dr. Waggoner on your award, and thanks for all you do.
By: Ciara Colvin ('16)