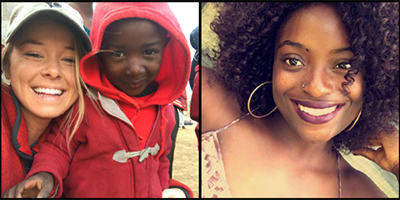 What is the connection between communication and the presidency? (No, we're not talking about President Trump here). Mecca Abdul-Aziz '18 and Rachel Wallace '19 are students who hold presidential positions at Wittenberg: Abdul-Aziz is Senior Class President and Wallace is Student Senate President. What's another thing they have in common? They're both Communication majors.
(Pictured - left image is Rachel Wallace with a young boy during her trip to Lesotho in Africa; right image is Mecca Abdul-Aziz)
Abdul-Aziz was also elected as Alma Mater last spring, one of the highest honors given to Wittenberg women. In addition, she is a Senior Writer for The Torch, a Community Advisor, a member of C.A.B.L.E., and a member of the Inauguration Steering Committee for Wittenberg's President Frandsen. "The Communication department has helped me a lot," Abdul-Aziz said. "A good leader is somebody who can listen," she continued. Abdul-Aziz believes her role as class president has helped her grow professionally and academically because she is learning to manage her time better and become more organized. "I'm learning how to run events in an effective manner," Abdul-Aziz said. "It has helped me connect and communicate better," she continued.
Wallace is also involved on campus as the Philanthropy Chair of Gamma Phi Beta, a tour guide, a Student Leader Fellow, a member of the Lesotho Nutrition Initiative, and the Inauguration Steering Committee. As a communication major, Wallace has been able to develop and maintain relationships among students and faculty during her time as president. "I've grown tremendously in the terms of relationships on campus," Wallace said. "I feel that I have a stronger relationship to the students and the amazing opportunity to represent them," she continued. Wallace also stated that her role has shaped her ability to deal with conflict. "It has helped strengthen my ability to stand up to popular opinion and do what's right," Wallace said.
Both Abdul-Aziz and Wallace are perfect examples of how communication impacts success. Not only have their communication skills led them to presidential positions at Wittenberg, but the department has also prepared them for a bright future. Abdul-Aziz and Wallace both prove the connection between communication and the presidencies.
By: Nicole Fracasso ('18)