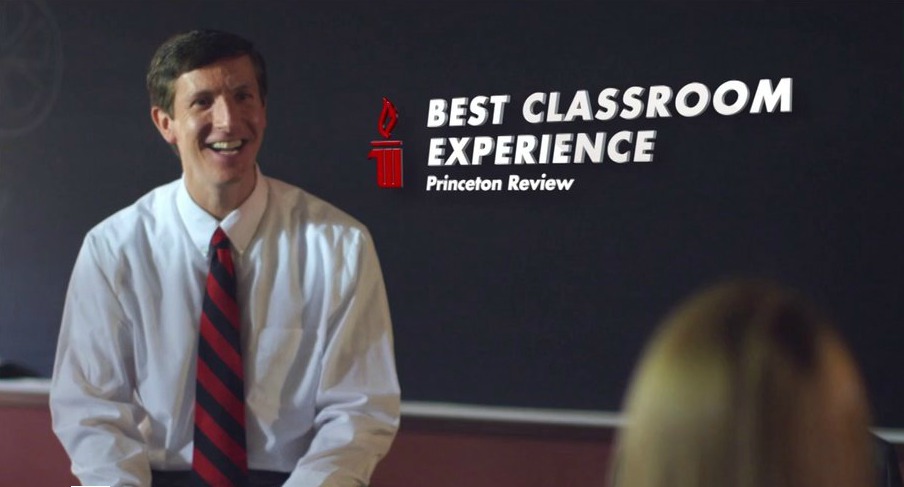 Several members of Wittenberg University's Department of Communication were featured in a 60-second spot that reflects the many dimensions of Wittenberg's active and engaged learning environment and highlights several notable distinctions from the Princeton Review.
Professors of Communication, Dr. Stefne Broz and Dr. Matthew Smith, along with several Communication majors, were shown in the commercial.
Dr. Stefne Broz is shown speaking with one of her advisees, Joshua Boggan ('15), and Dr. Matthew Smith's COMM 350: Animation History and Analysis class hosted the production crew so they could get some authentic live footage of classroom interaction. Communication majors Hannah Yalaz ('15) and Kayla Villegas ('16) appeared in the commercial as well.
"It was a tremendous honor to represent the faculty of Wittenberg University in this commercial. There are certainly a lot of my colleagues who contribute to our "Best Classroom Experience" and being their proxy was my honor," said Dr. Smith.
Made possible by a generous gift from Wittenberg Board of Directors member, the commercial will air in Dayton, Cincinnati, Columbus, and Toledo markets for the next two months.
Communication minor alumna Leigh Hall ('13) worked directly with the producer and film crew. As part of her job in the Office of University Communications, she became the liaison for the crew from Spacejunk Media, based in Columbus, Ohio.
"I stayed with the crew throughout the filming process and used my knowledge of campus to connect them with the students and faculty featured in the commercial," said Hall.
Written By: Ciara Colvin ('16)