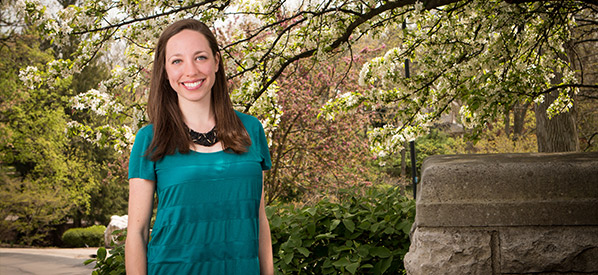 "Wittenberg has become a home for me in four short years. There are so many classes to take, clubs to join, professors to learn from, and friends to make on this campus. I can't imagine a better place to have pursued my undergraduate degree."
With a wide array of interests, Julia Devine decided that the right academic direction for her unified a variety of paths, including a major in communication and minors in creative writing and Spanish.
"I chose Communication because I like the variety of 'real world' career paths for which it prepares students. I feel confident that the major has equipped me with skills in media and writing, as well as communicating effectively. I added Spanish and Creative Writing minors because I have a passion for language, and I just couldn't make it through my time at Wittenberg without enrolling in a few creative writing classes—writing fiction and poetry has always been something I enjoy."
Hailing from McMurray, Pa., Devine thrived at Wittenberg as she pursued her truest passion: music.
"I am most proud of my involvement with Wittenberg's all-female a cappella group, Just Eve. The group has only been around for about 12 years, but I've seen it grow so much during my four years here and I couldn't be happier with the role Just Eve has played in my Wittenberg life. I've been able to create arrangements of popular songs and perform my arrangements (and those of other members) at our concerts and on our CDs. More importantly, though, I've made some amazing friends. For me, being involved in Just Eve has been one of the best things about Wittenberg."
As she makes plans to continue singing and performing after graduation, Devine thanks the many professors who have helped prepare her for life after Wittenberg.
"I have been most inspired by Wittenberg's professors during my time here. I've been lucky enough to have been taught by the wonderful, caring faculty members in the Departments of Communication, English, and Foreign Languages, but even my general education professors have had a profound effect on my experience at Witt and on the way I view the world."