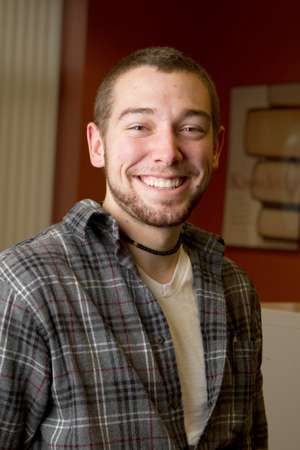 "Wittenberg puts the power in the student's hands. You have the ability to make your education the way you want it. Yes, liberal arts means taking some classes that may not thrill you beyond measure. Yes, being a Wittenberger will mean hard work and pushing your emotional, social and logical intelligences to the limit in some instances. But it is an experience for the better, and you get a return for the investment you put in: incredible experiences, lifelong friendships and a knowledge base and confidence that rivals any other education out there. This place is special, not because of any empirically measurable variables but because of the human spirit, community identity and passion for life that thrives here." - Tyler Hall '12
After considering everything from math to education to English, Tyler Hall found himself in communication class, where the liberal arts came alive. Hall saw meaning-making in action, and he never looked back.
"I would do it all over again – group projects and numerous speaking assignments included – to have the experiences and the community that I have now," says Hall, who choose to minor in business and journalism to complement his communication major.
Reflecting on the last four years, Hall explains that his faith in Jesus Christ has been the "biggest inspiration and source of energy, fulfillment and guidance while at Wittenberg," and that the people he met here were pivotal in his development as a person and future leader in the field of communication.
"Every single one of my friends – whether it was living in a house, training a service dog or working in a group together – has defined my time here in a unique way," he says. "The people I have been surrounded with have been an incredible blessing and a regular testimony to the love and enthusiasm that personifies this campus."
Hall credits Wittenberg's Young Life program, specifically Ben Bonham and Dan Ketterman, with helping to shape him as well as numerous professors.
"Brian Yontz in education had continually mentored me and opened his life up to help me in my spiritual and academic walks. Dr. Matthew Smith, Dr. Katie Warber, Dr. Sheryl Cunningham, Dr. Catherine Waggoner and Dr. Stefne Broz have all poured their resources as professionals and as scholars into my education and my edification as a communication professional."
With just a week until graduation, Hall looks forward to the next chapter in his life, his first job. Beginning May 21, Tyler will serve as social media coordinator and copywriter for the Springfield-based Wilt Public Relations.
"Preparing for the next phase of life in such an encouraging, uplifting, social and communal atmosphere excites me for engaging in whatever may be on the horizon with compassion and determination to make a difference for the better."
Written By: Karen Gerboth
Photo By: Erin Pence