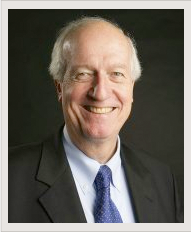 Springfield, Ohio – As an educational institution, Wittenberg University has subscribed to The New York Times through the newspaper's innovative Knowledge Network since the 2003-04 school year, giving students an increased awareness of national and world affairs. In appreciation of that collaboration, Wittenberg will welcome Assistant Managing Editor for The New York Times Craig R. Whitney to speak at 4 p.m. Tuesday, Oct. 30, in Bayley Auditorium, located in the Barbara Deer Kuss Science Center.
Whitney, who is responsible for overseeing ethics, accuracy and accountability in The Times newsroom, will focus his Wittenberg presentation on recent controversies in covering the Iraq war and the upcoming United States presidential election. In addition to his presentation, which is sponsored by the departments of political science, communication and English, Whitney will spend the day with students, accompanying several to lunch, and will speak in classes.
Whitney joined The Times in June 1965 and remained there for a year until he joined the Navy. He served three years as a public affairs officer in the Office of the Secretary of the Navy in Washington, D.C., before being discharged as a lieutenant in the Naval Reserve and rejoining The Times.
Since then, Whitney has reported and served as bureau chief in cities across the globe, including Saigon, where he covered the 1972 North Vietnamese offensive and the short-lived cease-fire of February 1973. While serving as bureau chief in London between 1988 and 1992, Whitney was a part of the paper's coverage of the fall of Communism.
Fluent in French, German and Russian and an accomplished amateur pianist and organist, Whitney has also authored several books, including Spy Trader, a biography about the East German lawyer and Cold War go-between Wolfgang Vogel. He graduated magna cum laude from Harvard College in 1965 with a bachelor's degree in French history and literature.
The New York Times Knowledge Network offers the newspaper's content to complement faculty-designed courses. It includes access to archives of New York Times dating back to 1851, articles, special sections, multimedia features and contact with accomplished journalists.
Written By: Elizabeth Burdsall '08