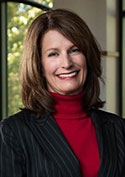 Springfield, Ohio — Intrigued by what she perceived as a pervasive use of camp aesthetics in film, television and music videos, Wittenberg University Professor of Communication Catherine Egley Waggoner used her 2002 sabbatical to assess the portrayal of "campy" women in popular culture.
Knowing that this trait is historically associated with men, Waggoner wanted to understand its role for representations of women. She shared her interest with colleague Helene A. Shugart of the University of Utah, and their research has resulted in the March 2008 publications of a book titled Making Camp: Rhetorics of Transgression in U.S. Popular Culture.
"It's a book on rhetoric, so it's really looking at logics that are undergirding the performances [of femininity] and how meaning is constructed," Waggoner said. "I've always been fascinated by extreme femininity such as Mary Kay consultants or even women with big hair that often are labeled as 'tacky.'
"I asked myself, how is it that women act like women? And, what does it mean to act like a woman."
Waggoner teaches Communication 361: Gender and Communication at Wittenberg. She said that writing the book helped her understand more aspects of gendered communication — not how men and women might communicate differently as is often the focus in communication and gender courses, but how communication constructs gender. It gave her a chance to explore interesting constructions of femininity in popular culture and try to figure out what's going on in supposedly innovative representations of femininity.
"Camp is what is typically associated with a male gay sensibility, as in drag queen performances," Waggoner said. "It's over-the-top, a parody and 'done with a wink.' It's something that people don't take literally. And, it's often been considered transgressive, having the potential to disrupt gender boundaries."
In the book, Waggoner and Shugart look at four different cases of campy women in popular culture: singer/songwriters Macy Gray and Gwen Stefani, the character Xena from Xena: Warrior Princess, and the character Karen Walker from Will and Grace, with the goal of understanding how certain configurations of elements such as tropes (i.e., stereotypical renditions of femininity, including jungle queens and vintage sex kittens) and spectacle (e.g., outlandish excess) encourage particular readings.
With the experience of writing a book, Waggoner said she learned a great deal about the publishing process. She is hoping to continue writing and investigating constructions of gender in popular culture, but this time with a focus on the intersections of gender, race and class.
"Writing the book was definitely worth it," Waggoner said. "It's nice to have your ideas come together in a constellation, so you can see it when it's all done."
Written By: Sydney Bates '08