Communication major/Music minor
Ostrander, Ohio
"I never really surrounded myself with other musicians in high school,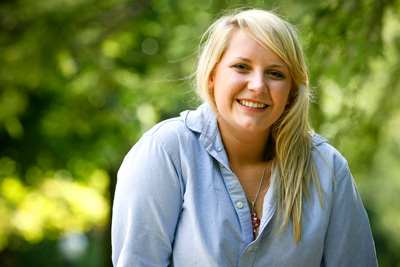 but here at Wittenberg, I have met and played with some really cool people who just love to make music."
The typical Wittenberg University student deals with daily tasks, including challenging classes and exhausting extracurricular activities. For Ariel Andrews, a hobby that has become more of an occupation – music – keeps her days more filled than most.
"Making music began just as a hobby that I could identify with like any teenager," she said. "Then it became something I loved, something I became good at. Then it became something that I could rely on to always make me happy."
Andrews said that inspiration to produce music comes from just about anyone or anything. She sees and identifies with musicians that play music because that is what they feel inside and what they are all about.
"I love the musicians that I can see live," she said. "Whether they are in a bar playing at an open mic night, or they are on a big stage. Watching them play and being fully engulfed in their music makes me want to play too."
Andrews produces her music under a record label produced by her family, but she still hopes to sign a bigger deal in the future. She has released two CDs, her most recent one titled To: all the heartbreakers. Her music is also available on Itunes and Amazon.com.
Andrews' music covers a wide range of topics and issues.
"Stories, fictional and non-fictional, personally and indirectly related, movie plots, lost friends, heartaches, crazy nights out, moving on," Andrews said. "Anything you would tell a story about, I would put it in a song."
Her decision to attend Wittenberg has expanded Andrews' musical horizons and inspired her in many ways. She said she has met many people in her first two years at Wittenberg who have helped her write songs, given her inspiration for lyrics or have simply sat alongside to listen or picked up an instrument to participate in the creative process.
"I never really surrounded myself with other musicians in high school, but here at Wittenberg, I have met and played with some really cool people who just love to make music," Andrews said.
Wittenberg has provided Andrews a support system, including membership in a sorority filled with friends who have been with her every step of the way. Andrews is a proud member of Sigma Kappa, and she acknowledges what a backbone her "sisters" have provided for her musical career.
"They have been the largest support system I could ever ask for," Andrews said. "Some act as guinea pigs for my music, listening and giving feedback. A couple of them act at 'roadies,' helping me carry all of my stuff around before a show. They back me 100 percent."
Like any musician, Andrews has numerous professional commitments, but she realizes her obligations as a student as well. Although these obligations have led to some tiring days and long nights, Andrews embraces her packed schedule and continues to excel at both academics and music.
"When I was recording my second album, I would have to go to Columbus a couple times a week for four to five hours at time," Andrews said. "Then I would have to head back to Witt late at night and catch up on my college responsibilities in order to stay on track."
Andrews, a communication major and a music minor, believes obtaining her college degree could help with the business aspect of the music world and give her credibility as a musician. She plans to expand her education by studying abroad this fall in Copenhagen, Demark, as a part of Danish Institute of Study's communication program. At the same time, her music career is not far from her mind.
"Being in Europe will give me a chance to experience a memorable life moment for my education, but at the same time will help me broaden my horizons by experiencing the world of European music," Andrews said.
Andrews expects to graduate on time from Wittenberg, and she is considering pursuit of a graduate degree as well. Of course, she will also continue to write music. She will continue to stick to her free-spirited mindset that has gotten her to where she is at today.
"Just like a jock has his football, I'm just a singer with a guitar hoping for something to come out of it," Andrews said.