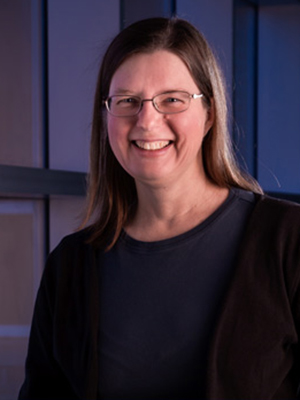 Professor of Physics
Sub-Atomic Physics, Physics Education
(937) 327-7854
egeorge@wittenberg.edu
Dr. George's primary research interest is conducting experiments on nuclear beta decay and positronium decay to test our current understanding of fundamental forces and symmetries. These experiments involve Wittenberg students in frontline, hands-on research funded by the National Science Foundation. She has also worked with Wittenberg students on environmentally-oriented projects such as studying the restoration of local river systems and calculating the university's carbon footprint.
She is interested in physics education research and has studied how students' use of computers in the introductory physics laboratory affects their learning about momentum and energy. The courses she has designed and taught include biomedical physics, electronics, and an introduction to chaos, fractals and pattern formation. She has helped to organize national conferences on advanced laboratory instruction and recently served as the president of the Advanced Laboratory Physics Association (ALPhA).
She joined the Wittenberg faculty in 1998 after earning a B.S. in physics from the University of Arizona, an M.S. in medical physics from the University of Colorado, and a Ph.D. in physics from the University of Wisconsin-Madison.
View her personal web page here