Planets, moons, comets, stars, and galaxies have captivated the minds and hearts of scientists, philosophers, and millions of people all over the world. Many have been intrigued by the immense size and energy of the universe. In this spirit, Wittenberg University's Astronomy Club offers the chance to enjoy the mysteries of space through observation, education, and fun activities.
What is the Wittenberg Astronomical Society?
The Wittenberg Astronomical Society is a group where any student, scientifically-inclined or not, can participate in the pursuit of astronomy. The club's current constitution was ratified in 1999, but the group was originally founded more than thirty years earlier.
Who are its members?
Wittenberg Astronomical Society members are students from a wide variety of majors, interests, and class years. The club is open to all students at Wittenberg University. There is no membership fee and meetings are open.
How do I become a member?
Show up to meetings, participate in activities, and voila. You can also subscribe to our mailing list to receive updates on the club and its activities. To subscribe, go to the WittLink Portal, click on "Mailing Lists" (under "Email" on the side menu bar), select "astro" off of the self-subscribed mailing lists, and click "join list."
Why is the club referred to by two different names?
Wittenberg Astronomical Society is our official name. It's unwieldy to say, but it makes us sound really important. Astronomy Club is much friendlier and is often used in more casual situations. For all intents and purposes, they mean exactly the same thing, and if you want to call it one or the other, no one will be confused.
What do members do?
The astronomy club has meetings which take place monthly, usually in the evening in room 319 in the science building. Free pizza and pop is provided. We discuss future activities and recent astronomy news. Some past club activities outside of meetings include trips to planetariums in Chicago and Cleveland, trips to England and Scotland, trips to dark sky sites, and observing here in Springfield.
What's in the observatory?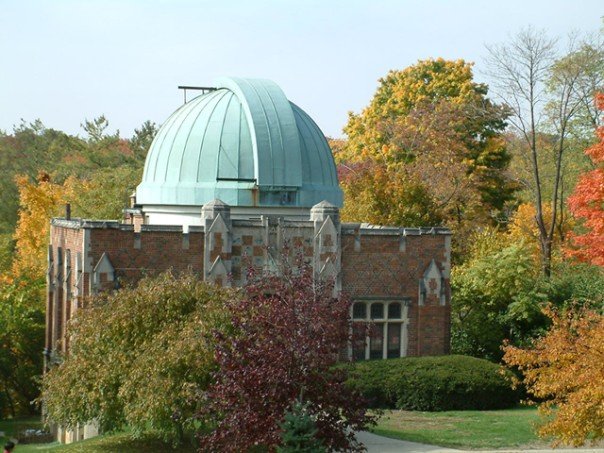 A very cool telescope that's about 15 feet long and gives incredible views of planets, moons, stars, nebulae, and other celestial stuff. The observatory also houses rats.
Don't worry, the psychology department takes good care of them, and the rats tend to stay in the basement. In addition to the main telescope, Weaver Observatory also has many smaller (but nearly as powerful) "Galileoscopes," which will be used at observing sessions and community events. There is also a classroom area where events and meetings will be held. More information about Weaver Observatory and the telescope can be found on the Weaver Observatory page.
Astronomy Links
NASA provides a Picture of the Day and useful information for anyone to enjoy - from the novice to the expert.
A thorough list of interesting Astronomy Links can be found here.
I want to join, but I don't know anything about astronomy.
That's okay! All that's required to be a member of the astronomy club is an interest in astronomy; no prior knowledge is needed.
I have a question that's not answered here.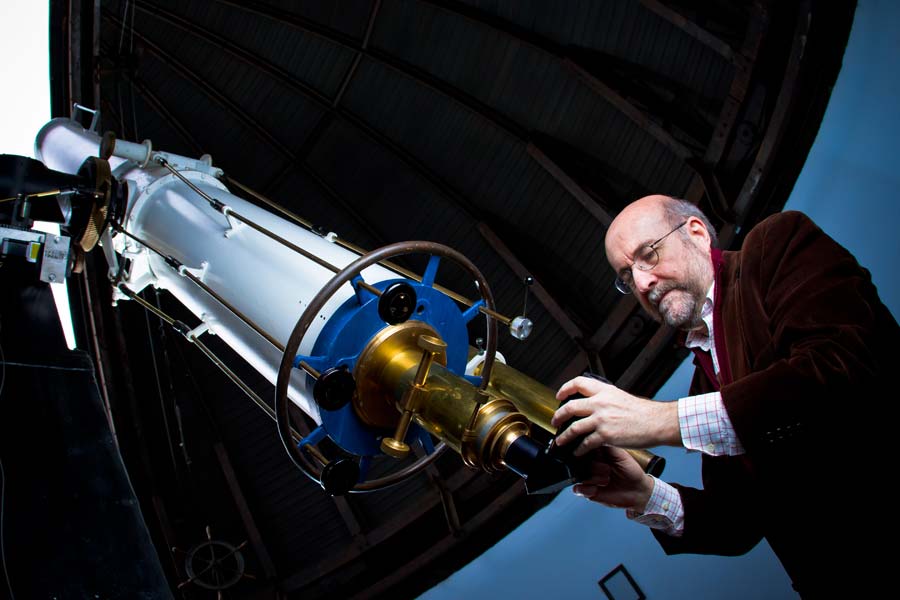 Talk to us! Let us know if you have comments or questions about the site, the club, its activities, or astronomy in general.
Faculty Advisor: Dr. Dan Fleisch
Professor of Physics
Department of Physics
P.O. Box 720
Springfield, Ohio 45501
(937) 327-7824
dfleisch@wittenberg.edu
Our Glorious (or is it vainglorious?) Leader also teaches physics classes at the university; the course names may be found at his personal web page.
The university's physics department may be reached at (937) 327-7822.
You can reach this organization's officers by emailing astro@wittenberg.edu