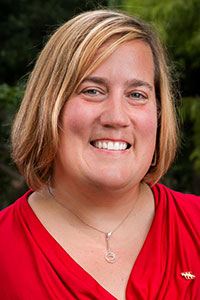 Assistant Professor of Practice
Director of Master of Arts in Athletic Coaching
sjurewicz@wittenberg.edu
(937) 327-6461
HPER Center 107
After 18 years working in collegiate athletics, Sarah Jurewicz has changed to focus her efforts on mentoring in the classroom with a specialization on teaching future coaches and women's sport history. As a member of Wittenberg's Health, Fitness and Sport faculty, she teaches courses in the undergraduate Sport Management program and the Master of Arts in Athletic Coaching program. Jurewicz is also the current director of the Master of Arts in Athletic Coaching program.
Jurewicz earned a Bachelor of Arts degree from Wittenberg in fine arts in 1998 and went on to earn her Master of Fine Arts from Savannah College of Art and Design (SCAD) in Georgia. Her first start in academia was an adjunct professor of art at the University of Colorado – Colorado Springs (UCCS).
Jurewicz is one of the all-time great players in Wittenberg women's basketball history after she led the Tigers to three North Coast Athletic Conference (NCAC) regular season and tournament titles. She earned team Most Valuable Player honors three times in her Wittenberg playing career, and she garnered All-NCAC awards all four years of her collegiate career. Jurewicz holds the school record for career points with 1,297, and she was inducted into Wittenberg's Athletics Hall of Honor in 2008.
Jurewicz coached at the college level during each stop of her academic pursuit, filling the role of assistant women's basketball coach at SCAD and Colorado College before coming back to her alma mater as the head coach from 2007-2017. She was appointed Senior Woman Administrator and Associate Athletic Director from 2014-2017. Jurewicz ranks second in Wittenberg women's basketball history with 142 coaching victories between 2007 and 2017, and she guided the Tigers to one NCAC regular season championship and one NCAC Tournament title while earning a pair of NCAC Coach of the Year awards.
Currently, Sarah's research interests include minimizing the stigma around mental health in college athletes and coaches and the continued pursuit for true equity through the application of Title IX. She is a member of the University Hall of Honor committee and the University Honor's Council.