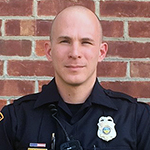 Seth began his Law Enforcement career with the U.S Air Force as a Military Police Officer in 2006. After serving two tours overseas, in support of Operation Iraqi Freedom and Operation Enduring Freedom in 2007 and 2008, Seth was assigned to the Bike Patrol Division and traffic enforcement unit.
In 2010 he was selected as one of Wright-Patterson's K9 Officers and was later assigned to the narcotics interdiction program. Seth served the surrounding community until 2012 when his Narcotics K9 Nisan passed away, after which he was assigned to Osan AB, Republic of Korea from 2012 - 2013 where he trained another K9. Upon his return he and his new K9, Blecki, spent their time conducting demonstrations to the public, responding to bomb threats at local schools and businesses, and later became assigned to the U.S Secret Service. Seth and his K9 traveled the U.S supporting the President and Vice-President of the United States until his K9 retired in April of 2017.
Seth transferred to the Springfield Air National Guard Military Police Squadron in September, 2017, at which point he also joined the Wittenberg Police Division.