Tiger Safe is a personal safety app that provides students, faculty, staff and parents direct access to Wittenberg Police and other key departments to easily communicate safety needs.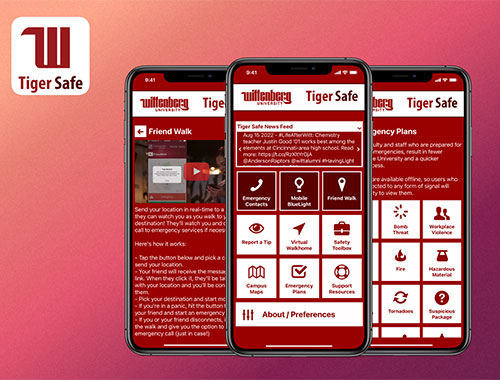 As a Wittenberg student, we want you to feel safe on campus. The Tiger Safe app is designed to make your experience on campus as safe and satisfying as possible. Tiger Safe empowers you with the tools you need to be prepared, mitigate dangers and respond appropriately to situations that occur.
With Tiger Safe, campus community members will be able to:
Make direct contact with public safety dispatchers and first responders in case of emergencies, or to share other information such as reporting a crime or a tip.
Share your location with friends or dispatchers as you walk to your destination.
Use mobile blue light to send your location and call public safety simultaneously
Link to campus safety resources
Find emergency information and what to do in an emergency
Access Wittenberg support resources
Tiger Safe is available to download free from the iOS or Android app stores.
---