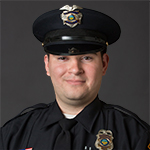 Officer Daniel Peczkowski began working for the Wittenberg University Police Division in June of 2014. He is currently assigned to the Patrol Division.
Before to coming to Wittenberg, Daniel spent two years as a police officer at Atrium Medical Center and five years with the Tremont City Police Department. He attended the police academy at Sinclair Community College. Prior to beginning his law enforcement career, he worked as a pharmacy tech for the Kroger Company.
Daniel is a graduate of Kenton Ridge High School and Clark State Community College, where he majored in Criminal Justice. He is now enrolled at Wittenberg University. Daniel is married and he and his wife have two children.