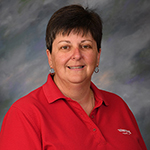 Megan Hilliard has been employed by the Wittenberg Police Division since November, 2011. Starting out as a 3rd shift dispatcher, she quickly was promoted to Senior Dispatcher and is currently scheduled to work 1st shift. She is the "voice of Wittenberg" as she is also the main switchboard operator for Wittenberg University. If you call the campus operator anytime Monday-Friday, 7am-3pm, you will hear Megan's cheery and friendly voice.
In 2018, Megan was assumed the role of department coordinator.
Megan has many years of customer service and corrections experience. In her free time, Megan enjoys spending time with family.