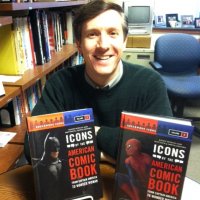 For the past three years, Dr. Matthew Smith has been writing and co-editing his latest publication set: "Icons of the American Comic Book: From Captain America to Wonder Woman."
The books are a two-part encyclopedia set with entries that include about a 5,000 word description.
"They are definitely not instruction booklets," said Smith. "But they are different from other encyclopedias because we focus on the word icon and what really stands out about comics."
Smith wrote entries on Batgirl, Comic-Con, Green Lantern, Jack Kirby's 4th World and more.
This book marks Smith's 6th book and his 3rd edited book set with co-editor Randy Duncan. He is already planning the next publication which will be a 2nd edition of "Power of Comics."
"We're working with Paul Levitz, the former president of DC Comics, for this 2nd edition," said Smith. "Paul's been rewriting the history chapters which is exciting because he's been an eyewitness to everything."
The next edition of "Power of Comics" is slated to be finished in January of 2014.
"It's really impressive the quality of people we've worked with," said Smith. "We've had the opportunity to work with scholars from around the world and renowned people in the comic industry. Contributions to this book have come from the people who MADE comics."
By Shelly Gregory, 2013