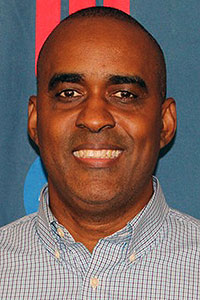 Assistant Professor of Health & Sport Studies
Director of Master of Arts in Sport Administration Program
hunterc8@wittenberg.edu
(937) 327-6433
HWA 107
Calvin Hunter initially arrived on Wittenberg's campus in Spring 2019 to serve as Associate Athletic Director for External Operations focusing on the development and marketing of the HWA Complex. Now, as a faculty member in the Department of Health and Sport Studies, he is the Program Director for the Master of Arts in Sport Administration and teaches undergraduate Sport Management courses as well.
Prior to his arrival at Wittenberg, Dr. Hunter served as Department Chair and Associate Professor for the Hospitality, Tourism, and Sport Management Department at Flagler College in St. Augustine, FL and Program Director of Sport Management at Guilford College and Catawba College, both in North Carolina. Dr. Hunter's past professional experiences also include coaching college football and women's college basketball as well as, event management responsibilities at the Greensboro Coliseum Complex.
He received a Bachelor of Science degree from Guilford College, majoring in Sport Management; a Master of Science degree in Sport Management from Georgia Southern University; an MBA from St. Leo University; and a Doctor of Education in Sport Management from the United States Sports Academy.