Forging Families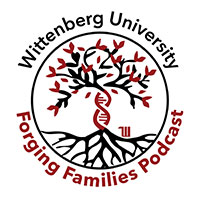 What makes a family? Is it blood relations or simply really good friends? What about teammates or pets—can they be family, too? And, what kinds of stories do we pass down about our families—either ones we are born into or ones we create ourselves, our "found" families? What impacts do these stories have on our sense of family?
Such questions are ones that inspired students in the very first digital storytelling course at Wittenberg to take up their recorders in search of tales about family, broadly defined. In one semester, we tackled the art of storytelling: learning the elements of the narrative arc (stories are not just strings of facts!); interviewing others (how best to help people feel comfortable on tape?); drawing stories from those interviews; and editing all of this into an audio file with narration, music, and other sound effects.
The result is a 10-part series, Forging Families, that takes a close look at all aspects of families, from uplifting twin and birth stories, to horrific but courageous tales of refugee families, to accounts of the familial bonds formed with our teammates and pets. Give it a listen, and let us know what you think at cwaggoner@wittenberg.edu. We'd love to hear your thoughts!
Podcasts