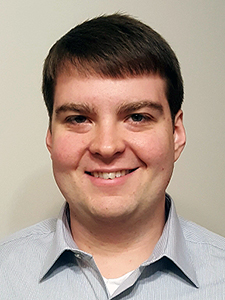 Assistant Professor of Practice, Physics
Molecular Physics, Acoustics
BDK Science Center 307
(937) 327-7833
chartranda@wittenberg.edu
Dr. Chartrand is an experimental and computational physicists whose research interests include the energy structure and dynamics of simple molecules as well as the physics of waves and sound. His current research interests are in the computation of the energy structure of molecular hydrogen to reproduce experimental observations, as well as using holographic interferometry to study the vibrational modes of the surfaces of musical instruments.
An Ohio native, he received his B.S. in Physics and Astronomy from the University of Mount Union and his Ph.D. from Bryn Mawr College. He joined the Wittenberg faculty in 2018.
Dr. Chartrand maintains a blog titled Equation of the Day https://eqnoftheday.com