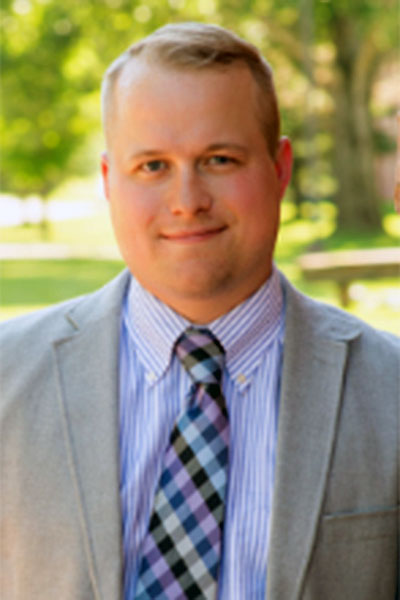 Assistant Professor of Religion
(937) 327-7403
proctort@wittenberg.edu
Hollenbeck 320
Dr. Travis Proctor, Assistant Professor of Religion, specializes in religions of the ancient Mediterranean, with a focus on histories of Christian cultures in the ancient world (ca. 50-500 CE). His research draws on perspectives from cultural studies, gender studies, and the environmental humanities to demonstrate how the histories of religious cultures have continuing significance for society today. His recently-published book, Demonic Bodies and the Dark Ecologies of Early Christian Culture (Oxford University Press), explores how early Christian theorizations of demonic bodies influenced ancient understandings of cosmic "ecosystems," and how such historical perspectives may inform contemporary environmental ethics. Dr. Proctor's other research interests include topics in environmental history, animal studies, space & material culture, and ritual studies. His work has appeared in academic journals such as the Journal of Early Christian Studies, Harvard Theological Review, Studies in Late Antiquity, and the Journal of Ecclesiastical History. For more on Dr. Proctor's recent research:
Dr. Proctor's teaching emphasizes critical, experiential learning that connects historical issues with topics of contemporary significance, including connections between ancient forgeries and modern "fake news," historical and contemporary notions of gender/sexuality, and the interactions between religious cultures and human treatment of the environment. His courses often feature experiential components, including course "field studies" of contemporary religious cultures and immersive role-playing reenactments of historical controversies. At Wittenberg, Dr. Proctor teaches courses on the New Testament, Christian Tradition, Hebrew Bible, Demons & Angels, Religion & Nature, Religion & Gender, and Fake News, Forgeries, & Frauds.
Dr. Proctor received his B.A. from Washington University in St. Louis and his M.A. and Ph.D. from the University of North Carolina at Chapel Hill.