A Celebration of Learning: May 5, 2020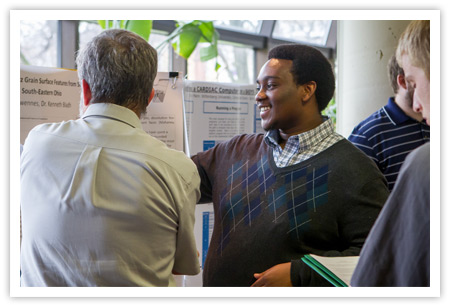 On behalf of the Wittenberg Community, we welcome you to Wittenberg's eighth annual Liberal Arts in Action: A Celebration of Learning.
This is an event dedicated to celebrating student achievement. There are more than 125 students presenting their work, experiences and performances. Due to the unprecedented Coronavirus event this semester, the Celebration of Learning is presented in virtual format.
Students participating in the Celebration of Learning are supported by their departments as they showcase their work. They represent the very best that Wittenberg has to offer. We congratulate them and want to pass on our thanks for their hard work and participation in the program.
We extend gratitude to Vanessa Orduna Zarazua and Cameron Dobrotka for their contributions in making this an exceptional day for the Wittenberg Community. Special thanks to Ryan Maurer for technical support, and to Linda Beals for helping us circulate the word about the event to local high schools!
We invite you to join us in celebrating our students' achievements!
Cordially,
Cherie Rebar, Ph.D., MBA, RN, COI; Professor of Nursing
Marie Bashaw, DNP, RN, NEA-BC; Director and Professor of Nursing
Liberal Arts in Action Committee:
Brandee Bates Kern, Director of Scheduling & Events
Linda Beals, Admission
William Davis, Assistant Professor of Psychology
Cameron Dobrotka, Class of 2020 Senate
Michael Mattison, Associate Provost, Director of Writing Center, Associate Professor of English
Michelle Mattson, Provost
Sharon Greitzer, University Communications
Holly Gersbacher, Director of Alumni and Lifelong Engagement
Cindy Holbrook, University Communications
Ryan Maurer, University Communications
Vanessa Orduna Zarazua, Class of 2020 Senate
Schedule of Events
Instructions for Participants