Field Opportunities
A key strength of our Marine Science Program comes from the many opportunities for field study, ranging in length from a week to a semester. These practical, hands-on experiences often lead to more extensive collaborative research projects with faculty members.
CLICK HERE to read the Bahamas Marine Science Course Blog
Extended field experiences offered with semester courses: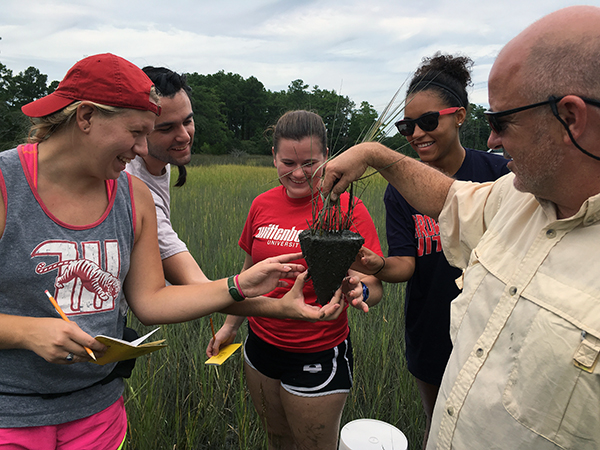 If you take Marine Ecology or the Biology of Marine Invertebrates, you can participate in an optional five-day field trip to the Duke Marine Laboratory in Beaufort, North Carolina. On these trips, you stay in the residence halls at the Marine Lab campus while collecting organisms and conducting experiments in the local marine habitats. In Biology of Marine Invertebrates, we travel near the end of the semester; you observe the organisms covered in class in their natural habitats. In Marine Ecology, we travel early in the semester; on this trip, you conduct experiments and collect samples that form the basis of the laboratory exercises for the remainder of the semester. Our Freshwater Ecology course offers regular field experiences to sites near campus, as well as applied conservation projects, as part of the course. You will learn water quality analysis and biological sampling techniques similar to oceanographic research methods.
Off-campus programs with marine focus:
Comparative Communities, Bahamas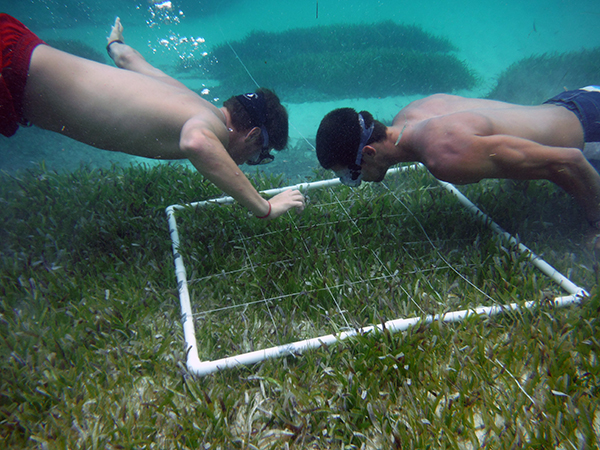 This three-week program is offered during alternate summers at the Gerace Research Center, San Salvador, The Bahamas. In this program, you will experience the culture of the island of San Salvador while you explore terrestrial and marine environments on daily field trips to coral reef systems and other tropical marine communities. You will spend several hours each day snorkeling as you learn to identify reef fish, invertebrates and plants. We also visit a local cave, hike in the interior of the island, swim to nearby cays, and survey the intertidal organisms of the rocky shore. After exploring a variety of habitats, you will identify a question of interest, propose a hypothesis to answer the question, and design and conduct a field research project to test your hypothesis. Many students present their findings at Wittenberg's annual Celebration of Learning; some also present at scientific meetings.
Duke University Semester Program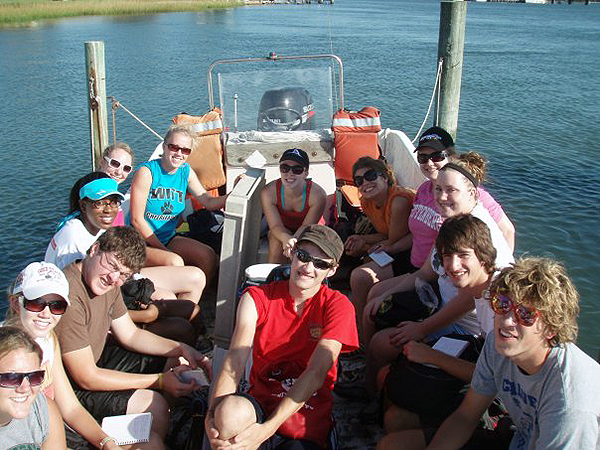 Junior or senior students interested in marine science may be recommended by the Marine Science Program Committee to attend the Duke University Marine Laboratory in Beaufort, N.C., during the fall or spring semester. At the Marine Laboratory, you can take a variety of courses in marine science, conservation and policy. If you attend during the fall semester, you will remain in residence at the Marine Laboratory for the entire semester; most students choose to conduct independent research projects. During the spring semester, which is divided into four blocks, you can choose from a variety of study-abroad opportunities within the Duke course offerings. Options include studying sea turtles in Puerto Rico, tropical marine ecology in St. John, U.S.V.I., or Belize, or urban ecology in Singapore. Selection for the Duke program is based on interest, previous course work, grade-point average, faculty recommendations and a personal interview. Click here to learn more about Duke's Marine Lab Program.
Cooperative Program in Environmental Management
Wittenberg offers a 3-2 program in Environmental Management with Duke's Nicholas School of the Environment. This program leads to a professional degree - the Master of Environmental Management (MEM). Although there are several tracks within the MEM program, our students interested in marine science often find the Coastal Environmental Management program of particular interest. Students who participate in this program spend their first three years at Wittenberg completing the general education program and a significant number of courses in their major, including the prerequisite courses required for admission to the Nicholas School. Students then apply for admission to the program at Duke. Upon acceptance to Duke, students begin work on a master's degree in environmental management. After completing the first year at Duke's Nicholas School, students receive the bachelor's degree from Wittenberg. This program is particularly appropriate for students interested in environmental management of coastal systems or marine policy.
Research Opportunities
With faculty guidance, many students develop research projects during the semester or summer, both on campus and in field locations. Some of these projects may be funded by the Student Development Board or the Department of Biology with either part-time semester grants or full-time summer research fellowships. Students who complete research projects regularly publish papers in peer-reviewed journals and present their work at academic conferences such as the National Conference for Undergraduate Research and the Benthic Ecology Meetings.
Recent Independent Research Projects
Effect of arm loss on escape speed of two epibenthic brittle stars in San Salvador, Bahamas
Geographic variation in response of fiddler crabs to three hexose sugars
Using molecular tools to identify species of fiddler crab larvae in a North Carolina estuary
A comparison of sea cucumber population dynamics in protected and unprotected habitats near Chumbe Island, Zanzibar, Tanzania
Summer Internships
Each summer, several students receive internship or research funding to study at marine laboratories or field stations around the country or abroad. Some of these opportunities include a stipend, travel funds and a budget for supplies. Recently, students have completed internships at the following institutions:
Dauphin Island Sea Laboratory, Alabama
Duke University Marine Laboratory, North Carolina
Clearwater Aquarium, Clearwater, Florida
Newport Aquarium, Newport, Kentucky
Shannon Point Marine Center, Anacortes, Washington
Blue Ocean Society for Marine Conservation, Portsmouth, New Hampshire
U.S. Navy Marine Mammal Program, San Diego, California
Career Opportunities
Virtually any aspect of basic science can be studied in a marine setting, allowing for a variety of employment opportunities and graduate programs. Our graduates are working in many different fields in positions such as:
Outreach coordinator, South Carolina Aquarium
Senior keeper, Chicago Zoological Society
Coastal education coordinator, North Carolina Coastal Federation
Project manager/enviornmental scientist, CSA Ocean Sciences Inc.
Ohio Clean Marinas coordinator, Ohio State University Extension
Marine mammal trainer, Six Flags Discovery Kingdom
Graduate School
Our graduates have pursued advanced degrees in many areas of marine science, including oceanography, education, marine policy and marine ecology. Recently, our graduates have attended:
Clemson University, spiny lobster ecology
Duke University, coastal environmental management
Florida Atlantic University, deep sea bioluminescence
Florida State University, coral reef ecology
Nova Southeastern University, marine biology and marine environmental science
Scripps Institute of Oceanography, marine biology and oceanography
SUNY–Buffalo, cognitive psychology/animal cognition
University of Canterbury, New Zealand, marine zoology
University of Delaware, marine policy
University of Miami, Rosenstiel School of Marine and Atmosphere Science
University of Oregon, marine biology
University of South Florida, cancer research using marine bioproducts
Washington State University, marine biology
Facilities & Resources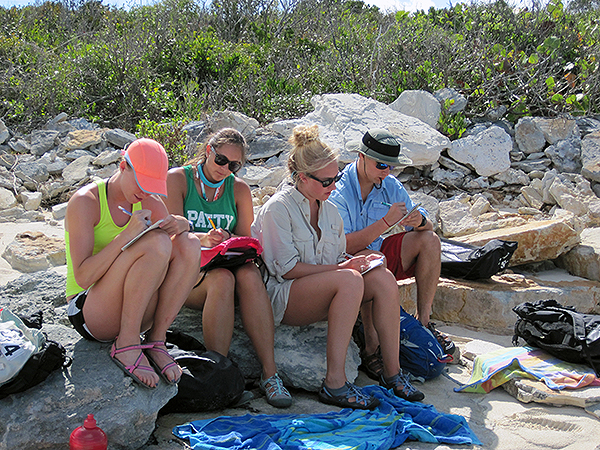 Regardless of your major, you will have access to modern equipment as you take courses related to marine science. All science departments are housed in the Barbara Deer Kuss Science Center, which features state of-the-art classrooms, computer facilities, laboratories and meeting spaces. Field equipment includes multi-probe water quality meters, open water and substrate samplers, electronic data loggers and GPS locators. In addition, students have access to a GIS Resource and Mapping Laboratory, saltwater aquaria, simulated streams, environmental chambers, and microscopy equipment including a scanning electron microscope (SEM) and a variety of light microscopes with digital image capability.