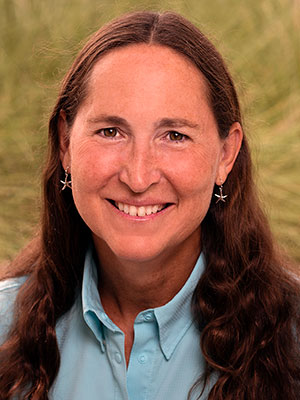 Professor of Biology
George C. Greenawalt Endowed Chair in Biology
Marine Community Ecology
BDK Science Center 301
(937) 327-6473
kreinsel@wittenberg.edu
Dr. Reinsel is a marine ecologist. She teaches courses in Marine Invertebrate Biology, Marine Ecology, and Introductory Marine Science. Students in some courses have the opportunity to participate in five-day fields trips to the Duke University Marine Laboratory, where they conduct ecological experiments and collect marine organisms from a variety of marine habitats. Her research interests include ecology of marine benthic communities, chemically mediated behavior, and the effects of human-produced environmental contaminants in aquatic systems. Current research includes foraging ecology and settlement site choice in larval fiddler crabs.
Dr. Reinsel received her B.A. in Biology from Hood College in 1986, and her Ph.D. in Zoology from Duke University in 1995. She conducted her dissertation research on fiddler crab feeding ecology at the Duke University Marine Laboratory, in Beaufort, NC. After her Ph.D., she spent a year and a half as an instructor at the Duke Marine Lab, assisting with courses in Marine Ecology, Invertebrate Zoology, and advising several students in independent research projects. Dr. Reinsel was a National Research Council Associate at the U.S. Environmental Protection Agency's laboratory in Gulf Breeze, Florida, from 1997-1999. As an associate, she began investigations on the effects of environmental contaminants on the reproductive biology of grass shrimp. She joined the Wittenberg Biology faculty in 1999.
Introduction to Marine Science
Biology of Marine Invertebrates
Marine Ecology
Comparative Communities - Bahamas
Extended Field Studies