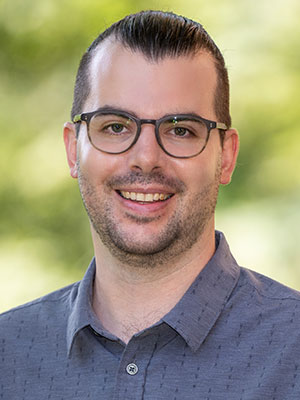 Assistant Professor of Biology
BDK Science Center 221
(937) 327-6484
swartzt@wittenberg.edu
Dr. Swartz is an ecologist who studies how we can conserve and restore biodiversity in the places where people live, work, and play. He completed his B.S. in Biology at Messiah University. He went on to complete an M.S. in Natural Resources and Environmental Sciences at the University of Illinois at Urbana-Champaign and a Ph.D. in Biology at Temple University. A key theme of Dr. Swartz's research is understanding how humans create novel habitats for wildlife, and how these wild organisms provide benefits (and cause problems) for people. Working alongside undergraduate student researchers, he has studied frogs in farm ponds, arthropods in vacant lots, and birds in city parks. At Wittenberg, he is developing local community-based research projects in Springfield and the surrounding region focused on restoring connections between people and nature in residential and urban landscapes.

Dr. Swartz teaches courses in biology, environmental science, and restoration ecology. He loves taking students out in the field to learn about organisms and ecosystems up close. Students in his classes prepare to become scientific researchers and engaged citizens through hands-on experience with study design as well as methods of data collection, analysis, and interpretation.

In his free time, Dr. Swartz loves to travel and bird watch with his spouse. At home, he enjoys gardening, games, and spending time with his two cats.
Selected Publications: