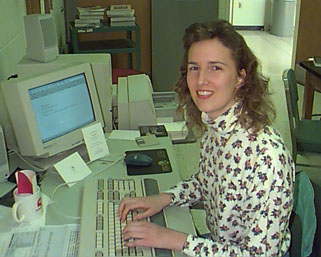 Professor
Neurobiology/Physiology, Human Anatomy & Physiology
BDK Science Center 217
cpederson@wittenberg.edu
(937) 327-6481
Dr. Pederson is trained as a neurobiologist, receiving her degree in Physiology and Neurobiology from Rutgers University in 1996. Her research in graduate school was primarily focused on the effects of cocaine on the lateral striatum in the rat. This involved single neurons which were recorded while the animal was performing a behavioral task. Her research found a rate dependent effect in the firing of striatal neurons after cocaine administration in which neurons with low firing rates increased their firing after cocaine, and neurons with high firing rates decreased their firing.
Dr. Pederson is currently studying morphological changes in the brains of people who developed posttraumatic stress disorder (PTSD) secondary to childhood abuse. She collects data to determine level of childhood abuse, personality disorders, medical history, and childhood family life. In addition, neuropsychological tests are administered to measure memory function, a clinical interview is given to determine PTSD status, and a magnetic resonance image of their brain is taken. Students are actively involved in the work, designing their own questions related to this data set and investigating brain structures of interest to them, and regularly publishing peer reviewed abstracts of their work.
Dr. Pederson teaches a variety of courses within the department. She team teaches in the Concepts of Biology: Biological Information, Reproduction, and Evolution course, one of the general biology courses for majors and minors. Her advanced courses include Human Anatomy & Physiology, Neurobiology, and Pharmacology.
Dr. Pederson also serves the department as the Pre-Health Professions Advisor. She runs a hands-on Pre-Health program and tries to guide students through both academic and career choices. She invites all pre-health students to come to her office individually each spring, at which time she discusses course sequencing, extracurricular activities, medically related experience, and research involvement and gives feedback on areas to focus on to be a well-rounded applicant.
Courses taught:
Biology 170, Concepts of Biology: Biological Information, Reproduction, and Evolution
Biology 220, Neurobiology
Biology 221, Pharmacology
Biology 325, Human Anatomy and Physiology