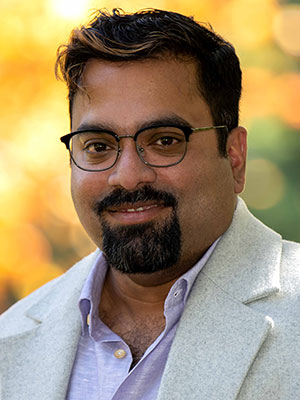 Assistant Professor of Biology
Microbiology
BDK Science Center 214
(937) 327-6389
chatterjeek@wittenberg.edu
Dr. Chatterjee is a RNA biologist with a particular interest in studying nuclear-cytoplasmic shuttling of tRNA molecules. He holds B.S. and M.S degrees in Microbiology from Calcutta University and Ph.D. in Microbiology, Biochemistry and Molecular Biology from Southern Illinois University School of Medicine. Dr. Chatterjee obtained his post-doctoral training in molecular genetics in Dr. Anita K. Hopper's laboratory at The Ohio State University. He has conducted research on archaeal small non-coding RNAs and yeast tRNAs. His lab is currently working on how tRNA molecules are exported from their site of synthesis in the nucleus to their site of function in protein production in the cytoplasm, using yeast as a model organism. With the emerging roles of tRNA being highlighted in various human disease conditions including cancer, Dr. Chatterjee was awarded the Pelotonia Cancer fellowship for his research in 2016.
Dr. Chatterjee is a serious movie buff, avid reader of mythologies from all over the world and loves to cook in his free time.
Courses Taught
BIOL227: Microbiology
BIOL104: Non-infectious diseases
BIOL164: Microbiology for Health Sciences
Selected Publications
Kunal Chatterjee, William A Marshall, Anita K Hopper. Three tRNA nuclear exporters in S. cerevisiae: parallel pathways, preferences, and precision. Nucleic Acids Res. 2022 Sep 23;50(17):10140-10152. doi: 10.1093/nar/gkac754. PMID: 36099418. PMCID: PMC9508810. DOI: 10.1093/nar/gkac754.
Chatterjee K, Majumder S, Wan Y, Shah V, Wu J, Huang HY, Hopper AK. Sharing the load: Mex67-Mtr2 cofunctions with Los1 in primary tRNA nuclear export. Genes Dev. 2017 Nov 1;31(21):2186-2198. doi: 10.1101/gad.305904.117. Epub 2017 Dec 6. PMID: 29212662; PMCID: PMC5749166.
Chatterjee K, Nostramo RT, Wan Y, Hopper AK. tRNA dynamics between the nucleus, cytoplasm and mitochondrial surface: Location, location, location. Biochim Biophys Acta Gene Regul Mech. 2018 Apr;1861(4):373-386. doi: 10.1016/j.bbagrm.2017.11.007. Epub 2017 Nov 28. PMID: 29191733; PMCID: PMC5882565.