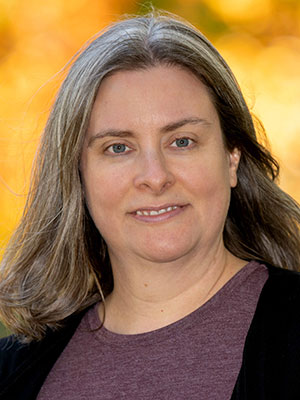 Associate Professor of Biology
Developmental Biology, Molecular Biology
BDK Science Center 367
mmcwhorter@wittenberg.edu
(937) 327-6483
Education:
B.S. Marietta College, 2000
Ph.D. The Ohio State University, 2005
Courses taught:
Biology 104- From Conception to Birth
Biology 171 & 181- Concepts of Biology Laboratory
Biology 214- Developmental Biology
Biology 250- Molecular Neurobiology
Biology 406- Senior Capstone
Research interests:
Dr. McWhorter studies the development of the nervous system in vertebrate embryos, specifically the zebrafish, Danio rerio, as a model organism. She is also interested in analyzing how teratogens (external agents) can affect the development of vertebrate embryos.
Recent publications:
Oprea GE, Kraber S,

McWhorter ML

, Rossoll W, Krawczak, M, Beattie CE, Bassell G, and Wirth B. Plastin-3 a protective modifier of SMN1 in spinal muscular atrophy. Science. 320: 524-527. April 2008.

McWhorter ML

, Boon, KL, Horan ES, Burghes AHM, and Beattie CE. The SMN binding protein gemin2 is not involved in motor axon outgrowth. Developmental Neurobiology. 68: 182-194. February 2008.
Beattie CE, Carrel, TL, and

McWhorter ML

. Fishing for a Mechanism: Using Zebrafish to Understand Spinal Muscular Atrophy. Journal of Child Neurology. 22: 995 - 1003. August 2007.
Carrel TL,

McWhorter ML

, Workman E, Zhang H, Wolstencroft, EC, Lorson C, Bassell, GJ, Burghes AHM, and Beattie CE. Survival Motor Neuron Function in Motor Axons Is Independent of Functions Required for Small Nuclear Ribonucleoprotein Biogenesis. Journal of Neuroscience. 26: 11014-11022. October 2006. (Highlighted in "This Week in the Journal")

McWhorter ML

. Development and analysis of a zebrafish model of spinal muscular atrophy. The Ohio State University, Doctoral Disseration, 2005.
Challa A,

McWhorter ML

, Wang CP, Seeger MA, and Beattie CE. Zebrafish Robo3 isoforms have distinct roles during gastrulation and motor axon pathfinding. Mechanisms of Development. 122: 1073-1086. October 2005.

McWhorter ML

, Monani UR, Burghes AH, and Beattie CE. Knockdown of the survival motor neuron (Smn) protein in zebrafish causes defects in motor axon outgrowth and pathfinding. Journal of Cell Biology. 162: 919-931. September 2003.