Published February 13, 2021
Mark Your Calendar for March 11
It's time for Commit to Witt 2021, the annual event when the Wittenberg University community comes together to celebrate Founder's Day and make an impact on current and future Tigers. Participate in the festivities as we focus on securing the next 175 years of Wittenberg and announce our comprehensive campaign. Watch Video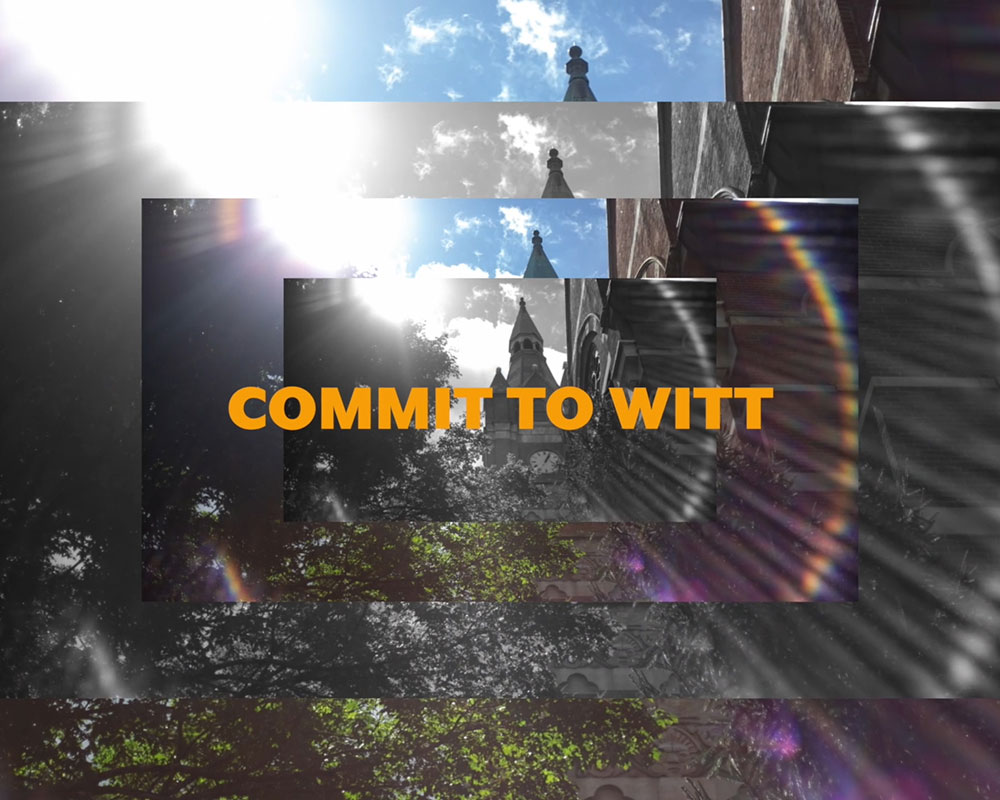 Celebrating Martin Luther King Jr.'s Legacy
Ericka Huggins, human rights activist, poet, educator, Black Panther leader, and former political prisoner, will present this year's Martin Luther King Jr. Convocation from 12 to 12:50 p.m. Tuesday, Jan. 19, 2021. The virtual presentation can be accessed through Wittenberg's Facebook page via Facebook Live. The event will also kick off Wittenberg's first-ever Martin Luther King Jr. Week, a series of virtual faculty presentations on issues of race, racism, and Dr. King's legacy sponsored by Concerned Black Students and the Faculty Diversity Advisory Committee.
Get Involved to Support the Future
There are several ways to get involved with Commit to Witt and the campaign.
Become a Commit to Witt ambassador for the day on March 11, 2021. Your role? Text, call, email, post on social media to encourage fellow alumni to make a gift, and join us at 8 p.m. that day online for the public launch of the campaign.  
Plan and host an online gathering during #Commit2Witt. If you don't have a virtual platform to use, email the Office of Alumni Engagement here.
Join a committee to encourage participation in regional or Greek affinity campaign events. Greek affinity events will be virtual so we can connect with alumni across the nation. Regional events are tentatively being planned to start later in the year with the hope that we can be together in person.
Thank you for your support and commitment to Wittenberg!
Black History Month 2021
Thanks to the efforts of the William A. McClain Center for Diversity, Wittenberg is hosting a robust programming series throughout February. Programs include collaborations among Wittenberg, Murray State University, and Wilmington College, a First-Year Seminar lecture, panel discussions, movies, history lessons, Sister Circle Talks, the McClain Brotherhood Series, and much more. VIEW SCHEDULE.
Supportive Spaces
From day one of the pandemic, Wittenberg made mental health a priority. Now the University has made an even bigger investment in the area, directing CARES Act funding to purchase subscriptions for all students, faculty, and staff to two leading mental health apps, Headspace and Talkspace.
#LifeAfterWitt
While 2020 might not have seemed like the best time to open a new business, Kari Smith Johnston '05, owner of the Rose City Boutique in Springfield, Ohio, felt it was her destiny. Under the direction of recently retired President and CEO Pat O'Conner '80, Minor League Baseball has never been more prosperous or popular. Antolani Ladipo '19 succeeds in writing the familiar in her recently published poetry book, Black Daze: Poems and Prose. Read more #LifeAfterWitt stories here
Austin E. Knowlton Memorial Scholar
Evan Wuertemberger '24 was recently named the recipient of the University's Austin E. Knowlton Memorial Scholarship. A math major, Wuertemberger is only the second recipient of the scholarship that is awarded to an incoming student with preference given to those studying mathematics.
Mock Interview Program
As a part of broader efforts to launch a mentorship program, the Why You Mock Interview Program, hosted by Wittenberg Career Services, offers opportunities for students to engage in virtual interviews and prepare for their future internship and job searches. To assist students in this process, sign up here.
"Rollover" Into 2021
As you prepare your 2020 taxes, it is never too early to plan for your 2021 tax situation. If you are 70 ½ or older, you can instruct your IRA administrator to make a direct transfer of up to $100,000 to Wittenberg or any qualified charitable organization. If you are 72 or older, your gift will also count toward your required minimum distribution for 2021. Distributions from an IRA made directly to a charitable organization like Wittenberg will be excluded from your reportable income. If you have questions about an IRA charitable rollover gift or would like to ensure that your gift supports an area of Wittenberg that is important to you, please contact us at planned-giving@wittenberg.edu or 937-327-7980.
Call for Nominations
Wittenberg alumni are making an impact in everything they do, both in their careers and their communities. The Alumni Association recognizes and celebrates outstanding alumni at an annual awards ceremony during Homecoming weekend. Fellow alumni, faculty, staff, students, and friends of Wittenberg are invited to nominate alumni deserving of recognition. The nomination deadline is February 28, 2021. View award criteria and make nominations here.