About the Program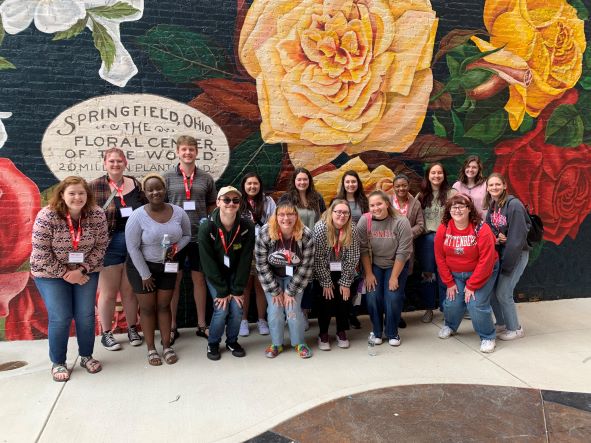 The Hagen Center's Civic Internship Program is an internship program that runs every summer from the last week in May through the end of July. The program combines an internship with opportunities to engage with local leaders and to network with Wittenberg alumni. The program helps students develop skills and knowledge to be active and engaged citizens.
Students learn from local leaders how communities work towards collective goals and how the work they do in their internship contributes to the building of a stronger community.
Key Dates
February 1 - Position descriptions due to the Hagen Center
By mid-February - Hagen Center posts all positions on Handshake
February 14. 15, 22 at 4:30, 201 Shouvlin- Required Interest Meeting for Students
March 3 - Deadline for students to apply in Handshake
By March 10 - Internship sites will begin review of applications
March 13-24 - Internship sites contact applicants, interview, and offer positions
March 31 – Deadline for internships sites to notify Hagen Center of selections after students have accepted their position(s)
May 30 - Program begins for students
June 2 - Students first day with partners
July 28 - Last day of internship
Frequently Asked Questions
How and when do students apply for the internship program?

The Hagen Center starts recruiting for the summer internship at the beginning of spring semester. Students should attend an Interest Meeting or contact Kristen Collier, kcollier@wittenberg.edu, to gain access to all Civic Internship Program opportunities listed in Handshake. Opportunities will be available starting mid-February and applications are due March 3rd, 2023. Students are encouraged to apply to at least three internships. About a week after the application due date, sites will begin to contact students, set up interviews and make a selection.

What are the requirements to apply?

Any Wittenberg student can apply with a 2.5+ GPA.

Are internships paid?

Yes, students are paid $10.25 an hour and most interns will work 37 hours per week, interns cannot work more than 37 hours in a weekly pay period.

Where do interns live over the summer?

The Hagen Center will cover the cost of summer housing on campus for the duration of the internship dates. If students need housing before or after the internship dates, students are responsible for paying for that housing.

Can students get academic credit for their internship?

Yes, but you have to register on Handshake, have an advisor and pay for the credits.

You can find more information about Internships for credit at Career Services web page.

How many hours a week are required?

Most interns will work 37 hours per week and will attend weekly gathering (meals provided).

What are the requirements beyond the on-site internship hours?

The Hagen Center requires students to participate in a three day orientation (starting May 30th), weekly group dinners and a final celebration event the last week, where interns provide a visual reflection on their experience. Interns will also submit a final written self-reflection.

What are the benefits of doing the internship program?

Applied Learning: Chance to apply academic knowledge and skills within a work environment.
Soft Skill Development: Our community partners help students develop the soft skills necessary for succeeding in a professional environment.
Mentorship: Site supervisors provide professional development mentorship relevant to the academic interests of the student.
Academic Credit: Internships can receive academic credit if done with a faculty advisor who provides reflection opportunities for the student to think about how their internship experience relates to their academic coursework. Students must complete at least 35 hours of work for each academic credit.

What type of internships are available?

Each year we send a request to community organizations to submit possible projects for interns to consider. Past projects include: social media and marketing, special event planning, peer advocates, research, community development, recreation coordinator, fundraising, camp counselor, environmental stewardship and so many more.

What are students learning outcomes for the internship program?

Participation in the program will increase student's awareness and understanding of the challenges and rewards of making positive change in community.
Through interaction with community partners, faculty members and members of the Greater Springfield community, students will have the opportunity to exercise and further develop their leadership, communication and problem-solving skills.
Students will complete projects that meet goals and expectations established by community partners working in collaboration with the Hagen Center.
After building personal connections within the Greater Springfield community, student perceptions about Springfield and Clark County will improve.
Information for Internship Sites
Click on the links to access the Overview of the Internship proposal process and PowerPoint from Internship Information Meeting
Link to Internship Site Proposal
What Students are Saying
"This summer project has given me confidence in my abilities to adapt to new situations and take on fairly autonomous projects. Additionally, I have experience seeing the behind the scenes working of a non-profit organization working toward the goal of youth development and poverty alleviation. My sociology background combined with these experiences has led me to develop a passion for servant leadership and social justice; things I will try to incorporate into my professional future."
"After participating in the Hagen Center internship, my eyes were opened to the positive and progressive things about the community as well as the countless jobs opportunities. My eyes were also opened to realize that I want to help people as a career and this community is a place that could use my help just as much as any other."
What Partner Sites are Saying
"Without the hard work of interns we would not be able to provide all of the services that we offer"
"Our agency was enhanced by the committed and dependable interns this summer."