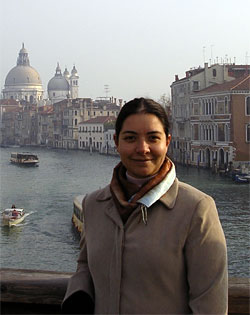 Associate Professor of Art
Director of the Honors Program
(937) 327-6330
agimenezberger@wittenberg.edu
Koch Hall 105
Dr. Gimenez-Berger completed her undergraduate degree at Gustavus Adolphus College, where she studied Art and Art History. She continued her studies at American University, Washington, D.C., where she received an M.A. She earned her Ph.D. at Temple University. Her dissertation, "Castiglione, Portraiture, and Performance at the Court of Philip II of Spain," reveals her interest in tracing the appropriation and translation of visual and textual ideas across national boundaries.
Dr. Gimenez-Berger's research has earned fellowships and grants from the American Society for Hispanic Art Historical Studies, the Gladys Kieble Delmas Foundation for Independent Research in Venice, and the Samuel S. Felds Fund, among others. Currently, she is completing a book on sixteenth-century portraiture in European courts, and a translation of Francisco Pacheco's Art of Painting. She joined Wittenberg in 2007.