Scholarships
Wittenberg offers financial assistance for art students in the way of a fine arts scholarship. This renewable scholarship offers selected students up to $5,000 and is designed for students who hope to actively participate in art during their time at Wittenberg. To apply for this scholarship, students must prepare a portfolio of 20 works to be submitted in the form of a power point presentation.
Portfolio Guidelines:
To be considered for an art scholarship, students must submit a portfolio of up to 20 recent works in a PowerPoint presentation format, which must be received by March 1. For every digital image, clearly mark your name, the media used, the overall size of the piece, and the year it was created. Please note we would prefer that the majority of work submitted represents a concentration in a particular media. Include only a few examples that demonstrate the breadth of your work. Your portfolio may be saved on a flash drive or a CD.
Studios & Galleries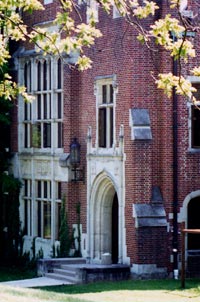 Koch Hall, in the historic heart of campus, was built in 1929. In 1980 it was designated to the Art Department, housing dedicated studios for graphic design and photography on the third floor; painting and drawing on the second; printmaking and smart classrooms on the first, and sculpture and ceramics on the basement level.
The first floor also houses the Ann Miller and Thompson galleries and an extensive image library. The galleries are open from 9 a.m. to 5 p.m. weekdays or on weekends by appointment.
Seniors are given studio spaces for the duration of the senior thesis. Click Here for a complete listing of Art Department events and exhibits.
Wittenberg Art League
The Wittenberg Art League is a student run organization with the objective to create a strong visible community in the Arts at Wittenberg University. The Wittenberg Art League (WAL) has ambitions to stretch the values and benefits of the Arts from the Wittenberg campus into the surrounding community - therefore, promoting a reflective cultural bond, appreciation and aesthetic between the Springfield area and our student body. To achieve this, we sponsor student art sales, a Fall trip to a city to view art (past trips have included Chicago, New York, Washington DC), local trips to museums, and art critiques on campus.
All are welcome in WAL, no matter their art ability or major. The running positions in WAL are: President, Vice President, Secretary, Treasurer, Public Relations, Fundraiser Coordinator, and Historian.
Contact Information:
Awards & Honors
As a way to honor students' hard work throughout the academic year, the Wittenberg Art Department gives out the following awards to deserving students:
The Ralston C. Thompson Awards were established in honor of the late Ralston Thompson, Professor of Art (1941-1970). These awards are granted by the Art Department to students who demonstrate exceptional promise in art.
The Wittenberg Guild Awards are given annually from a fund established by the Wittenberg Guild. These awards are granted by the Art Department to students who demonstrate execptional promise in art.
The S. Paul & Clara M. Weaver Endowed Scholarship was funded through a generous gift in loving memory of S. Paul Weaver by his wife Clara M. Weaver, Columbus, Ohio, to provide financial assistance to sophomores, juniors, or seniors who are either art majors or minors or education majors with a desire to teach art.
Departmental Honors
Departmental Honors are aimed at those students who could benefit from an in-depth exposure to the methodology of a field. Departmental Honors offer the student the opportunity to engage in a unified, scholarly project. The project includes a written component and an oral examination.
A student does not have to be a member of the Wittenberg University Honors Program to participate in Departmental Honors. In general, the student applies for Departmental Honors at the end of the junior year. The student should have a record of demonstrated high academic ability and self-discipline. In particular, the student needs a 3.50 cumulative GPA to be considered for Departmental Honors. In addition, the student should have demonstrated an advanced level of competence in the department of interest, which should include having completed half of the credits required for a major in that department. Some departments have additional requirements, which are noted later in the Academic Catalog in the descriptions of departments and programs of instruction.
After appropriate departmental evaluation of the proposal, a three person committee, chosen by the department, evaluates the completed project and conducts the oral examination. Ordinarily, one member of the committee serves as project supervisor. The student may undertake a project without enrolling for semester hours or may enroll in a project for up to 10 semester hours, which will be granted for a satisfactory project, whether or not Departmental Honors are awarded. Upon the recommendation of the project committee, the student is awarded Departmental Honors at graduation. See Academic Policies and Procedures for details.
Art History
Art history students regularly participate in regional and national research conferences. Click here to learn more and to read about recent art history theses.