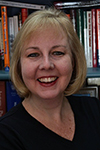 Adjunct Professor of Art
(937) 232-1618
lorenzettij@wittenberg.edu
Koch Hall 105
Jennifer Lorenzetti is a design historian and writer based in Centerville, Ohio. She holds a BA in History and an MS in College Student Personnel Services from Miami University and a Higher Education Teaching Certification from Harvard University. Her research centers on the history of American advertising.
Lorenzetti is the author of five books, including Tickets to Paradise: A History of Key West Travel and Its Advertising, 1912-1975. She is a sought-after speaker and a published poet. Her photography has been exhibited at the ArtEd Exhibition at the Rosewood Arts Center and Lights, Camera, Dance for Gem City Ballet.