English majors must attend English department colloquia during their academic careers. The department will offer an average of three colloquia every semester and may occasionally designate a non-departmental colloquium as qualifying for this requirement.
Sign-in sheets will be at all English department colloquia, and attendance records will be kept in the English department office. It is the student's responsibility to sign in at each event they attend, and to keep track of their progress toward fulfilling this requirement. Information on colloquium attendance can be accessed in the English department office.
Among the new and ever-changing list of speakers and presenters, visiting authors and inspiring lecturers are annual events in the English department (dear and recurring friends on the colloquium schedule): The List, What Can You Do With an English Major?, and the Literary Pub Fest.

to download English Department Event Google Calendar

Colloquia Schedule Spring 2024
Thursday, January 18
True North: Author Reading & Book Signing with Andy Graff
4:30pm in Ness Auditorium and Hollenbeck Atrium
More events TBA
Colloquia Schedule Fall 2023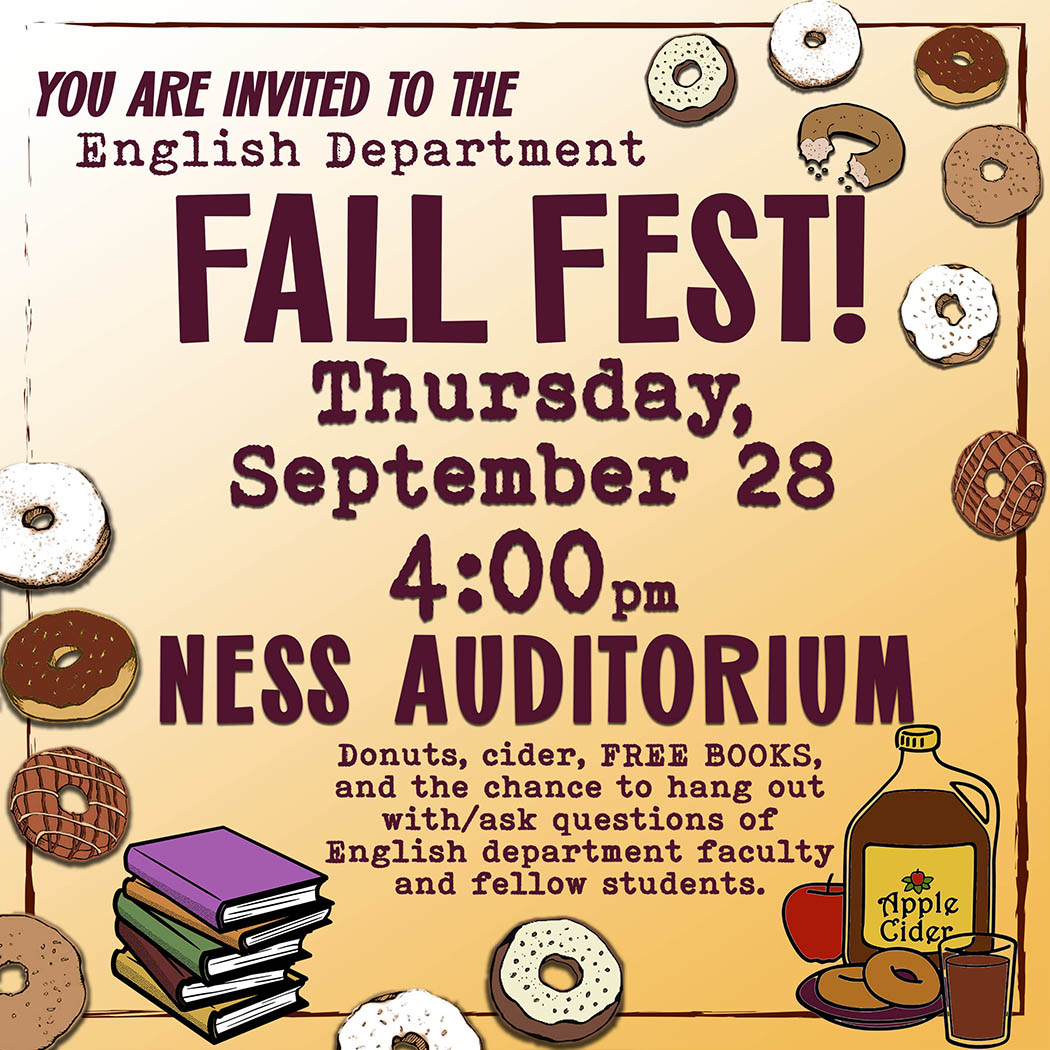 Thursday, September 21
Audre Lorde: The Berlin Years, 1984-1992 Screening
6:00pm in Ness Auditorium and Hollenbeck Atrium
Wednesday, September 27
Dr. Tiffany Florvil lecture: "Finding May Ayim In the Wake"
4:30pm in BDK Science Center 262
Thursday, September 28
English FALL FEST
4:00pm in Ness Auditorium and Hollenbeck Atrium
Saturday, October 7
Poetry-Themed Tailgate with English Faculty
10:00am East Campus Drive
Friday, October 27
Literary Costume Party with Ghost Story Open Mic
3:00pm in Ness Auditorium
Monday, December 11
ENGL 341: The Lyric Sequence Student Poetry Reading
5:30-7pm Ness Auditorium