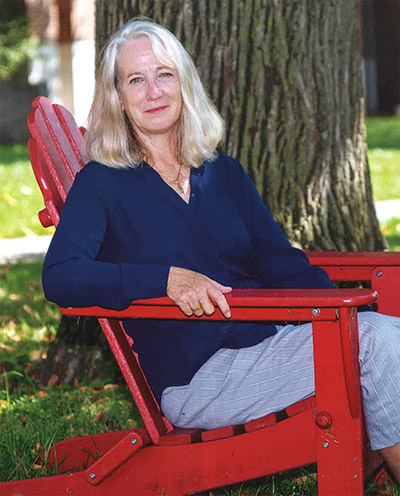 Professor of English
crichards@wittenberg.edu
(937) 327-7053
Hollenbeck Hall 122
Profile
Dr. Richards fell in love with literature during a seminar on John Keats her first semester at Brown University, where she earned her B.A. in 1984, and although she redirected her passions toward eighteenth-century literature during her graduate days at New York University (Ph.D 1996) she has remained a committed teacher and scholar ever since. Her teaching interests include eighteenth-century literature, the woman writer, war, romance, and how the study of all of the above intersects with living a meaningful life. A Fulbright Scholar, she is co-editor of Approaches to Teaching Behn's Oroonoko and editor of Mary Wollstonecraft's The Wrong of Woman paired with William Godwin's Memoirs of Wollstonecraft's life. Widely published, Dr. Richards is also a contributing editor for The Scriblerian. From 2009-2015, she chaired the department.
Notable Accomplishments
Lawrence Ruff Visiting Chair in Eighteenth-Century Studies, University of Dayton, Spring 2016
Woman of the Year, Wittenberg University, 2014 and 2015
Fulbright Alumni Ambassador, 2009-2010
Fulbright Scholar, 2004-2005, Czech Republic
American Society for Eighteenth-Century Studies Innovative Teaching Award, 2002 (Transatlantic Connections)
Omicron Delta Kappa Excellence in Teaching Award 2000
Courses Taught (selected)
Theorizing Tristram Shandy
Editing the Classics: Topics in Advanced Composition
Making Romance: Themes and Traditions in Literature
English 101E: Memory, Memorial and Restitution
Private Matters, Social Networks: Reading the Eighteenth Century in a Digital Age
Bad Girls: From Eve to Mary Wollstonecraft (Women and Literature I)
Love and War in the Eighteenth Century
Transatlantic Connections: Studies in the Eighteenth Century
Literary Form and Interpretation: The Language of Love and Loss
British Literary Genealogies: Inventing the Self
Honors Seminar: The Darkness Within
Degrees
Ph.D. New York University 1996
B.A. Brown University 1984
Research Interests
Eighteenth-Century Literature
Women and Gender Studies
Aphra Behn
Mary Wollstonecraft
Trauma Theory
Disability Studies
Pedagogy
Selected Publications
Co-Editor (with Mary Ann O'Donnell), Approaches to Teaching Behn's Oroonoko, (New York: MLA, 2013).
Editor, The Wrongs of Woman; or Maria and Memoirs of the Authors of "A Vindication of the Rights of Woman," with introduction, notes, inter-text essays, appendices (Glen Allen, VA: College Publishing, 2003).
"Wit at War: The Poetry of John Wilmot and the Trauma of War," Eighteenth-Century Fiction (Fall 2014).
"Anger and the Liberated Girl," Mary Wollstonecraft: Interpretations and Reflections, ed. Michaela Mudure. (Cluj-Napoca, Romania: Napoca Star Publishing, 2014).
"Transatlantic Crossings: Teaching Oroonoko with The Widow Ranter," Approaches to Teaching Behn's Oroonoko, MLA World Literature Teaching Series (New York: MLA, 2013).
"Interrogating Oroonoko: Torture in Oroonoko and a Fiction of Power," Eighteenth-Century Fiction (Summer 2013).
"To Whom Does the New World Belong? Teaching The Widow Ranter in a Transatlantic Context," Approaches to Teaching British Women Playwrights of the Restoration and Eighteenth Century, MLA World Literature Teaching Series (New York: MLA, 2010).
"The Body of Her Work, The Work of Her Body: Accounting for the Life and Death of Mary Wollstonecraft," Eighteenth-Century Fiction (Summer 2009).
"Romancing the Sublime; Why Mary Wollstonecraft fell in love with that cad Gilbert Imlay," Tulsa Studies in Women's Literature (Spring 2006).
"Revising History, 'Dumbing Down,' and Imposing Silence: Understanding the Later Career of Mary Hays," Eighteenth-Century Women 3 (November 2003).
"Fair Trade: The Language of Love and Commerce in Mary Wollstonecraft's Letters Written During a Short Residence in Sweden, Norway, and Denmark," Studies in Eighteenth-Century Culture 30 (Spring 2000).
"The 'Pleasures of Complicity': Sympathetic Identification and the Female Reader in Early Eighteenth-Century Amatory Fiction," The Eighteenth Century: Theory and Interpretation (Fall 1995).
"Sylvia: The Unintended Female Reader in Aphra Behn's Love-Letters between a Nobleman and His Sister," Michigan Feminist Studies (Spring 1995).