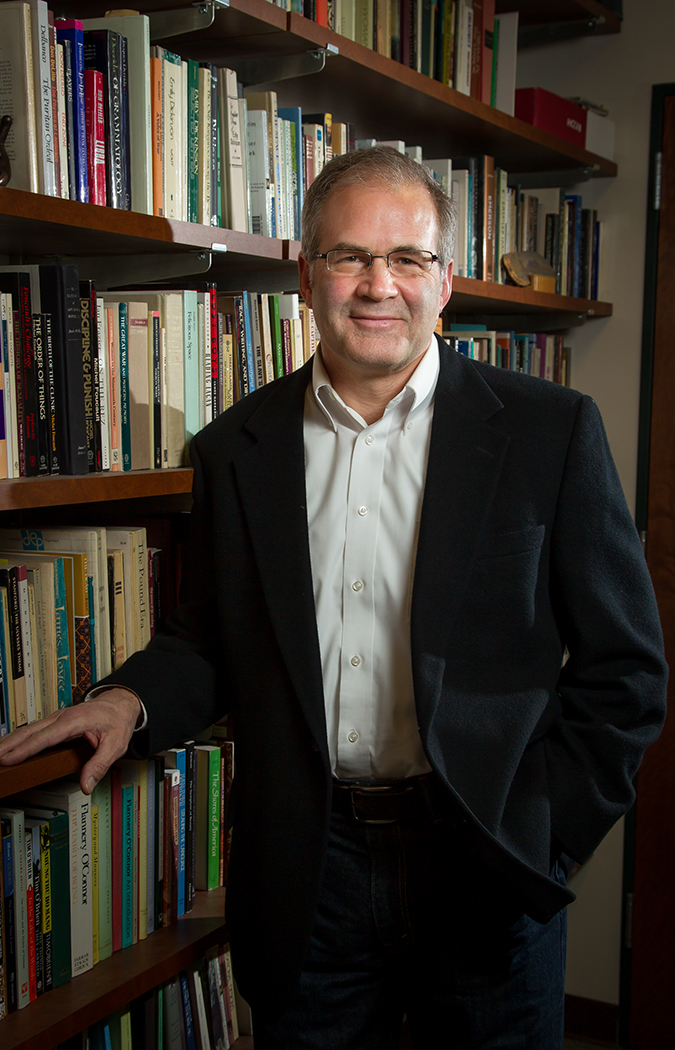 Professor Emeritus of English
rdavis@wittenberg.edu
 
Profile
Robert Leigh Davis' fascination with literature began when he heard Gary Snyder recite "Smokey the Bear Sutra" at something called The Tribal Stomp in Berkeley in 1977. Dr. Davis has been teaching, writing, and tribal stomping ever since. He's published widely on American literature and teaches courses in literature and spirituality, composition, the medical humanities, and nineteenth-century American literature. He's directed both the Writing and the First-Year Seminar programs at Wittenberg. In recognition of his commitment to undergraduate education, Dr. Davis has received two Wittenberg teaching awards and been selected as an honorary alumnus by five different graduating classes. His book on Walt Whitman is published by the University of California Press. His current book project is titled, "Sacred Play: Spirituality and American Literature."
Notable Accomplishments
Plenary Conference Speaker at the University of Liverpool (UK), Cleveland State University, and the Penn State College of Medicine
National Endowment for the Humanities Fellowships 2014, 2002
Southwest Ohio Council for Higher Education Excellence in Teaching Award 2006
Recognized in the Excellence in Education special issue of Ohio Magazine 2005
The Alumni Association Award for Distinguished Teaching 2005
Edith B. and Frank C. Matthies Award for Faculty Research 1998
Omicron Delta Kappa Excellence in Teaching Award 1996
Graduate Writing Award, University of California, Berkeley 1992
Distinguished Graduate Fellowship, University of California, Berkeley 1992
Courses Taught (selected)
The Literature of the Beat Generation
Dark Romance: The American Renaissance
Deep Survival: Trauma and Hope in American Literature
Sacred Play: Literature and Spirituality
Weird Tales: Literature and Madness
Stories of Sickness: Literature and Medicine
The Comma Sutra: Introduction to Expository Writing
American Civil War Literature
Degrees
Ph.D. University of California, Berkeley
M.A. Stanford University
B.A. Stanford University
Research Interests
Literature and Spirituality
Walt Whitman and Emily Dickinson
The American Renaissance
Literature and Medicine
Trauma Theory
The Literature of the Cold War and the Beats
Composition and Rhetoric
Selected Publications
Whitman and the Romance of Medicine (Berkeley: University of California Press, 1997).
"'The Mute Look that Rolls and Moves': Walt Whitman's Civil War," in Life and Limb: Literature and Medicine in the American Civil War (Liverpool University Press, 2015).
"Sacred Play: Thomas Merton's Cables to the Ace," The Merton Annual 20 (2007).
"Democratic Vistas," in A Companion to Whitman, ed. Donald D. Kummings (Oxford: Blackwell Publishing, 2006).
"The Practice of the Everyday in the Literature of Nursing," Journal of the Medical Humanities 26:1 (2005).
"Civil War Nursing" and "Memoranda During the War," in The Walt Whitman Encyclopedia, ed. Donald D. Kummings and J. R. LeMaster (New York: Garland Publishing, 1998).
"The Lunar Light of Student Writing: Portfolios and Literary Theory," in Situating Portfolios: Four Perspectives, ed. Kathleen Blake Yancy and Irwin Weiser (Provo: Utah State University Press, 1997).
"Richard Selzer's Raising the Dead," Literature and Medicine 13:2 (1994).
"America, Brought to Hospital": The Romance of Medicine and Democracy in Whitman's Civil War," The Wordsworth Circle 24:2 (1994).
"The Art of the Suture: Richard Selzer and Medical Narrative," Literature and Medicine 12:2 (1993).
"Whitman's Tympanum: A Reading of Drum-Taps," The American Transcendental Quarterly 6:3 (fall 1992).
"Medical Representation in Walt Whitman and William Carlos Williams," The Walt Whitman Quarterly Review 6:3 (1989).
"That Two-Handed Engine and the Consolation of "'Lycidas'," Milton Quarterly 20:2 (1986).