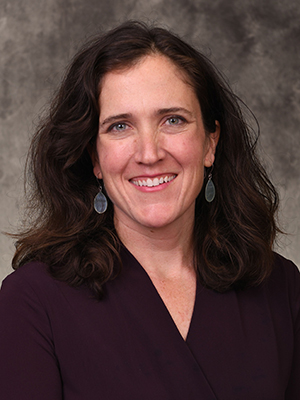 Associate Professor, Director Environmental Science
Climate change, environmental justice, geochemistry, civic education research
BDK Science Center 125B
(937) 327-7328
sfortner@wittenberg.edu
Education: 
Ph.D., Earth Sciences, The Ohio State
M.S., Geology, The Ohio State University
B.S., Geology and Geophysics, University of Wisconsin-Madison
Motivation: My mission is to promote the sustainability of earth resources for future generations. I actively engage in student-centered classrooms and in transdisciplinary research on water, climate, land use, environmental justice issues. At local to national scales I promote civic engagement, sustainability education, and transdisciplinary problem-solving through research, faculty development, and building local action networks. My desire to sustain earth resources was inspired by investigating glacier snow and melt from polar, tropical, and temperate regions. The fragile nature of earth is evident in their magnificence, their remoteness, and their melt. I conduct glacier research, mentor students, and serve on the Academic Council for the Juneau Icefield Research Program that inspired me as a high school student. 
Leadership: Currently I serve as on the National Association of Geoscience Teachers Teach the Earth Leadership Committee and the Traveling Workshop Team that helps geoscience programs plan curricular innovations. As a program development leader, I am on the AAC&U Civic Institute Advisory Committee and have co-developed materials and co-led program redesign for 47 institutions in 20 states. In 2017-2018, I was the Geological Society of America-American Geosciences Institute Scholar In Residence and created resources that promote civic engagement in the geosciences. See: Geoscience for Community Priorities. Our geology and environmental science program are nationally-recognized for civic engagement by AAC&U through an Endeavor Foundation Grant. Additionally, I served on the steering committee for the National Academies Workshop on Service-Learning in the Undergraduate Geosciences and was the Chair of the Innovation & Collaboration Committee for the Council on Undergraduate Research. My leadership through the NSF InTeGrate Program supported a doubling of the sustainability curriculum at Wittenberg University (now 30+ courses). We are expanding sustainability curriculum through this effort as well as a new NSF-funded (2019-2024) Improving Undergraduate STEM Education collaboration BASICS (Business And Science: Integrated Curriculum for Sustainability) with faculty from Wittenberg, Bentley, & Northern Illinois University to create open access STEM-Business Sustainable Development Goal curriculum and inspire a culture of transdisciplinary collaboration needed to catalyze sustainability in our workforce.
Teaching Interests: inquiry-based teaching, climate literacy, community engagement. My goal is to improve science literacy and community agency especially for topics like climate change that permeate community and political decisions. Co-planning with the community is central. Students contribute 600 service hours to the community each year via research and science literacy education. These include mapping soil fertility and functioning, mapping and monitoring environmental pollutants, and exploring campus and community sustainability assets (bike racks, recycling, trees, etc). Students learn disciplinary skills, habits, and technologies and gain community participatory skills needed to support their communities and though planning, projects, and policy change. Internships and research instrumentation provided by committed partners provide students with additional experience and resources. 
Publications:
*mentored undergraduate
Baraer, M., McKenzie J., Mark, B.G., Gordon, R., Bury J., Condom T.,  Gomez J., Knox, S., & Fortner, S.K. 2015. Contribution of groundwater to the outflow from ungauged glacierized catchments: a multi‐site study in the tropical Cordillera Blanca, Peru. Hydrological Processes: 29, no. 11: 2561-2581.
Corsello*, R.,2020. Community engagement concerning soil lead levels. The International Undergraduate Journal for Service-Learning, Leadership, and Social Change: 9. no. 2: 20-33.
Eddy, A.M., Mark, B.G., Baraer, M., McKenzie, J., Fernandez, A., Welch, S., & Fortner, S. K., Exploring patterns and controls on the hydrochemistry of proglacial streams in the upper Santa River, Peru, 2017, Glaciology and Mountain Ecosystems, INAIGE
Fortner, S.K., Scherer, H., Ritter, J. Civic engagement in earth and environmental sciences: a situated learning model at Wittenberg University.  In Ed. Zimmerman. Preparing students for Community engaged Scholarship in Higher Education, IGI Global. 
Fortner, S.K. Manduca, C.A., Guertin, L.A., Szymanski, D.W., Villalobos, J. Teaching for earth resilience: A strategy for increased diversity and equity.  GSA TODAY: 29, p. 36-37.
Fortner, S.K. & Lyons, W.B., 2018. Dissolved trace and minor elements in cryoconite holes and supraglacial streams, Canada Glacier, Antarctica. Contributions of glacier surface waters to global ocean chemistry: McMurdo Dry Valleys, Antarctica, Special Issue: Cold region melt water controls, Frontiers in Earth Science 6, no. 31 (eds. Martyn Tranter, Mark Skidmore, Andy Hodson)
Fortner, S.K., Scherer, H., Murphy, M., 2016. Engaging undergraduates in soil sustainability decision making through an InTeGrate Module, Journal of Geoscience Education: 64, n. 4: 259-269. See Module: See module which is also peer reviewed: http://serc.carleton.edu/integrate/teaching_materials/sustain_agriculture/index.html 
Fortner, S.K., Lyons, W.B., Munk, L.A.  2013. Diel stream geochemistry, Taylor Valley, Antarctica, Hydrological Processes:  27, no. 3, p. 394-404.
Fortner, S.K., Lyons, W.B., Carey, A.E., Shipitalo, M.J., Welch, S.A., Welch, K.A., 2012. Silicate weathering & CO2 consumption within agricultural landscapes, the Ohio-Tennessee River Basin, USA. Biogeosciences: 9, p. 941–955.
Fortner, S.K., Mark, B.G., McKenzie, J.M., Bury, J., Trierweiler, A., Baraer, M., Burns, P.J., & Munk, L. 2011. Elevated stream trace & minor element concentrations in the foreland of receding tropical glaciers. Applied Geochemistry: 26, no 11, p. 1792-1801. 
Fortner, S.K., Lyons, W.B., & Olesik, J., Eolian deposition of trace elements onto Taylor Valley Antarctic glaciers. 2011. Applied Geochemistry 26(11): 1897-1904. 
Fortner, S.K., Lyons, W.B., Fountain, A.G., Welch, K.A., Kehrwald, N. M, 2009. Trace element & major ion concentrations & dynamics in glacier snow & melt: Eliot Glacier, Oregon Cascades. Hydrological Processes: 23, p. 2987-2996.
Fortner, S.K., Fourth & fifth grade students learn about renewable & nonrenewable energy through inquiry, 2009. Journal of Geoscience Education: 57, no. 2, p. 121-127.
Fortner, S.K., Tranter, M., Fountain, A., Welch, K.A., & Lyons, W.B., 2005. The geochemistry of supraglacial streams of Canada Glacier, Taylor Valley (Antarctica) & their evolution into proglacial waters. Aquatic Geochemistry: 11, no. 4, p. 391-412. 
McGill, S.F., Wells, S.G., Anderson, H. Kuzma, Fortner, S.K., & McGill, J.D., 2009. Slip rate of the Western Garlock fault, at Clark Wash, near Lone Tree Canyon, Mojave Desert, California. Geological Society of America Bulletin: 3-4, p. 536-554.