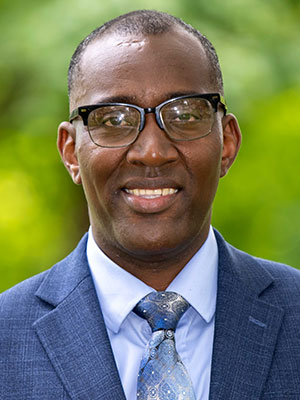 Assistant Professor of Political Science
Comparative Politics, International Relations, African Politics
Hollenbeck Hall 208
(937) 327-6104
soquem@wittenberg.edu
Academic Background
B.A. Languages, Literature, and Administration, Catholic University of Angola, 2007
M.A. Public Administration, Western Michigan University, 2012
Ph.D. Political Science, Western Michigan University, 2022
Awards and Recognitions
All-University Graduate Teaching Effectiveness Award, Western Michigan University, 2022
Graduate Teaching Effectiveness Award, Western Michigan University, 2021
Fulbright Alumni Success Story of the Month, United States Embassy in Angola, 2021
Gwen Frostic Doctoral Fellowship, Western Michigan University, 2021
Dissertation Completion Fellowship Award, Western Michigan University, 2020
Howard Wolpe Scholarship for African Study, Western Michigan University, 2018 and 2020
Civil Society Scholar Award, Open Society Foundations, 2019
John R. Borsos Endowed Scholarship, Western Michigan University, 2018 and 2019
Fulbright Foreign Student Award, University of South Carolina-Columbia, 2010
Fulbright Foreign Student Award, Western Michigan University, 2010-2012
Sonangol Scholar, Catholic University of Angola, 2004-2007
Courses Taught at Wittenberg
POLI 102 Intro to Political Science: Comparative Politics
POLI 209 The Politics of Developing Countries
POLI 259 U.S. Foreign Policy
POLI 309 Politics of sub-Saharan Africa
Research Interests
My research focuses on comparative politics of developing countries, especially those of sub-Saharan Africa. I am interested in the nexus between co-optation, repression, and service provision and their impact on authoritarian resilience. I'm also interested in the study of parallel institutions and civil society in African authoritarian contexts. Finally, I have an ongoing research interest that explores the relationship between anti pandemic measures and authoritarian resilience and anti-corruption campaigns and political exclusion.
Other Interests/Info
I joined the Wittenberg faculty in 2022. Born in Angola, I have strong interest in languages, journalism, and social justice. I am fluent in Portuguese and French and I'm a former reporter with Bloomberg News. I have also published opinion articles in media outlets in Angola, including Novo Jornal and Luanda Post. I am currently a columnist with Angola-based newspaper O Telegrama.